Andy Yip, former president of the Hong Kong – Greater China Business Association of Washington in Seattle and member of Realogics Sotheby's International Realty's Asia Desk, visited Chicago recently, where he attended the annual caucus of the National U.S. Hong Kong Business Association (NUSHKBA). As a current board member and last year's board chair, Yip's visit was well-timed, as the Hong Kong Trade Development Council organized the largest promotion they've ever held to coincide with the caucus date.
The promotion, Think Asia Think Hong Kong, held at McCormick Place in Chicago, began with a special address by the Chief Executive of the Hong Kong SAT Government, C.Y. Leung. The day continued with dynamic thematic sessions including "Overseas Companies finding success in Asia through the Hong Kong Platform," "Hong Kong: The Gateway for Chinese Outbound Investment," and "Hong Kong – A Base for Technology Companies to Grow Business in Asia." Each panel was rounded out by a numerous networking opportunities, Q&A sessions, and business matching meetings, which presented attendees with a one-of-a-kind experience and true educational opportunity. View the full program here.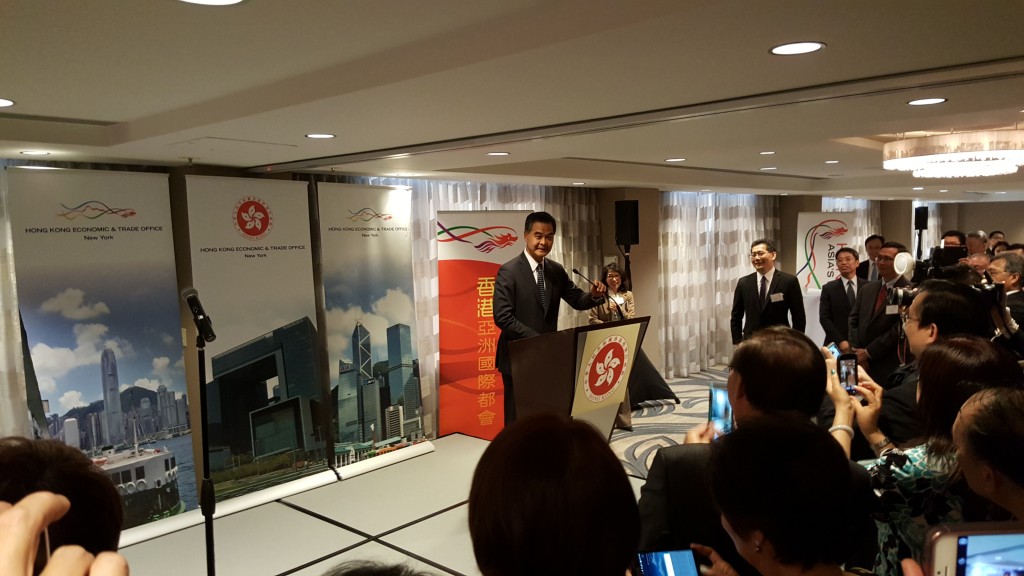 As the Think Asia Think Hong Kong website describes, "Asia continues to drive the global economy's growth, [and] North American companies keen on exploring new business opportunities in the East can partner with Hong Kong, Asia's international trade and financial centre, in their search for success." Apropos, given that Yip's key takeaway from the event was Hong Kong's continued position of freest economy, according to Heritage Foundation rankings. Further, Yip says Hong Kong currently serves as the gateway for funds from China to invest worldwide, which includes the United States, a definite beneficiary of a recent surge of offshore investment from China.
During a private reception open only to key board members of the National U.S. Hong Kong Business Association at the Conrad Hilton Hotel in Chicago, Yip had the opportunity to converse one-on-one with C.Y. Leung and other prominent board members, sharing insights regarding updates and trends between the United States and Hong Kong.