The Gray Team positions for partnership with HSBC Seattle to assist local and global clientele with residential real estate, investment properties and beyond.
(Seattle, WA) Becky Gray, senior global real estate advisor of Realogics Sotheby's International Realty (RSIR), hosted a catered cocktail reception at an exclusive Bellevue listing on October 17th from 5:30 to 8:30 pm to commemorate the opening of a new HSBC Private Banking office in downtown Seattle. A collective of top-tier HSBC clients and executives, members of the RSIR executive team, and other esteemed guests toasted to HSBC's sustained success with the new office and acknowledged the appointments of Li Ying Wang and Todd Haberly to vice presidents of HSBC Seattle.
(From left): Jones and Gray began the evening with a few brief remarks.
"I was thrilled to partner with Li Ying and Todd to welcome guests to our Bellevue listing to recognize the new HSBC Private Banking office in Seattle, discuss local and global market trends, and honor this truly fantastic property," reflected Gray. "I echo Li Ying and Todd in their excitement at what the future holds for our work together as we advocate for our local and international clients with white-glove service and expert wealth management advisement."
Guests took in breathtaking views from a truly unforgettable Bellevue home.
While guests settled in to stellar surroundings with views of Mount Rainier, the Seattle skyline and Lake Washington, Gray opened with a welcome to guests and an overview of the luxurious property. The home, located at 719 96th Avenue Southeast in Bellevue, Washington, is currently listed at $10.8 million. As Gray noted, it offers an unparalleled lifestyle opportunity with over 14,000 square feet of living space set upon 2.5 acres. Gray touched upon the global recognition garnered by the property, as Sotheby's International Realty® selected it for inclusion on their YouTube channel, which received the Silver Creator award earlier this year. With over 159,000 subscribers, Sotheby's International Realty® is the first and only real estate brand to achieve this milestone.
After Gray's remarks, Dean Jones, president and chief executive officer of RSIR shared insights on Seattle's global presence and its "international" middle name. Jones outlined the firm's dedication to partnering with local and international clients, with connections to trusted wealth managers to advise their clients. As a board member of the Washington State China Relations Council, Jones has played a key role in the organization through his involvement with the Inbound Investment Committee, to better serve international clients.
Guests learn more about the new HSBC office and market fundamentals from Seattle, NYC and beyond.
"The new HSBC Private Banking office in Seattle is yet another indication that the Seattle market has been discovered," said Jones. "This event provided an excellent opportunity to discuss growth in the Emerald City and what's on the horizon both in our backyard and around the world."
Next, Li Ying and Todd Haberly offered a few brief words to thank attendees and express their excitement at this monumental step for their clients in Seattle and future partnership opportunities with the Gray Team. As the evening wound down, Alex Catterick, vice president of the HSBC New York office, offered guests an update on the Big Apple market. As Catterick outlined, New York City has long served as an international hub of financial influence. Now that Seattle has emerged in the global marketplace at a rapid pace, he expressed his belief in the potential and longevity the Pacific Northwest will afford in the coming years.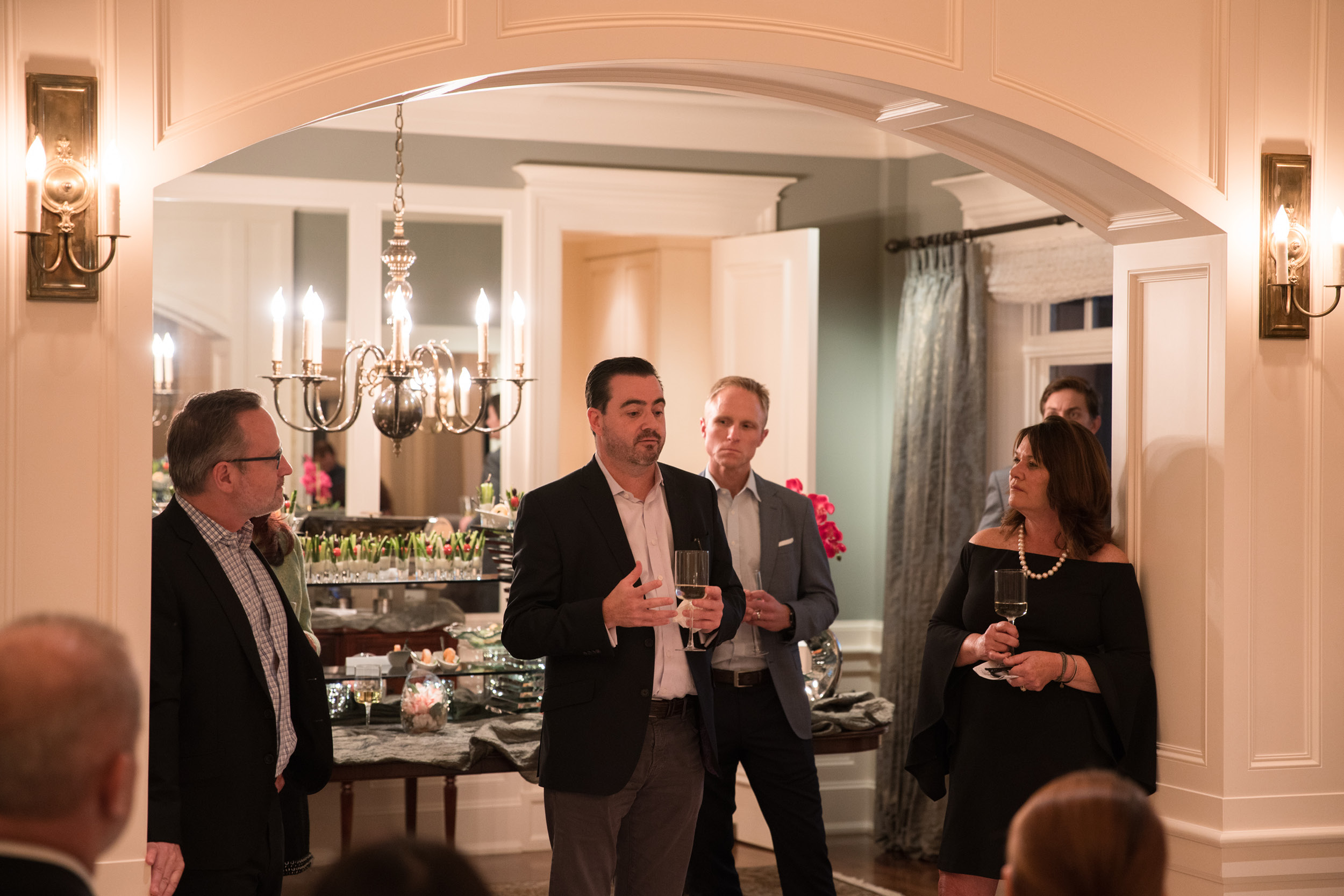 Catterick discussed parallels between New York City's position as a prominent international city and Seattle's emergence as a global gateway city.
In addition to Wang, Haberly, and Catterick, distinguished representatives from HSBC included Anil Daryani and Junia Pan Li, vice presidents with HSBC's San Francisco office, as well as Thomas Jaffe, Senior Vice President of Wealth Management, and Maria Luisa Tame, Business banking Manager. Other notable guests included Mr. Benjamin Lee, chairman, Hong Kong Greater China Business Association of Washington; and RSIR executive team members Dean Jones, president and chief executive officer; Stacy Jones, vice president and chief people officer; and Andrea Savage, vice president of marketing.
"I want to extend my gratitude to those that joined us to toast HSBC and their accomplishments," added Gray. "I was glad to extend my relationship with HSBC and arrange private tours of the home throughout the evening; it provided a truly unique opportunity for exposure to a number of well-qualified international clientele."
Gray invites prospective buyers to explore additional details and schedule a tour of the home here.
Prospective buyers are encouraged to contact Becky Gray for additional details and private tours.