This month, we partnered with Costa Rica Sotheby's International Realty for Distinctive Destinations, a series that highlights a selection of properties from our global affiliate partners around the Sotheby's International Realty® network.
Imagine waking up in the mornings with the sweet birds' melody, to observe the sunset from a balcony facing the beach or enjoy a warm climate throughout the year… Located in Central America, a 19.714 square miles' privilege piece of land that gathers all the conditions to explore a new life: Costa Rica.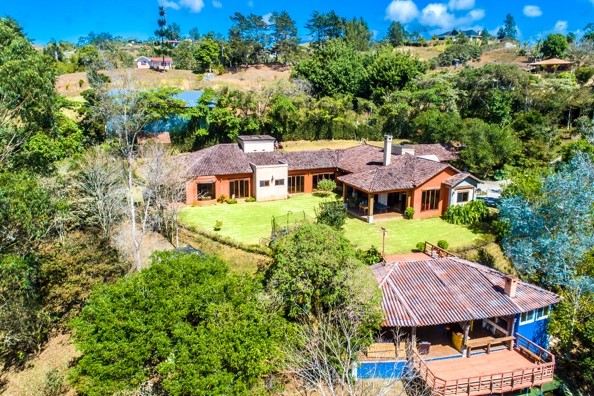 Mountain View, Paraíso, Cartago  |   Represented by Miguel González
The report "Looking at the world through the eyes of expatriates 2017," highlights it as the second world favorite place for people who are looking for properties outside their country. Also, it shows us one of the reasons foreign choose to live in Costa Rica: "It offers the freedom to live a peaceful and happy life surrounded by friendly people."
The easy adaptation to a new culture, the facility to make friends, the high quality of life indexes and the favorable conditions to establish a family are other important advantages.
Bali Villa Atenas, Atenas, Alajuela  |   Represented by Wijbrand Tuinstra
Costa Rica has had no army since 1948, which has allowed the Government to invest more in environmental protection (about 26% of the territory is dedicated to nature reserves, national parks, and other protected areas) and education, a free and compulsory right.
Besides educated, Costa Rican inhabitants are very hospitable. As we use to say are very "pura vida," which is reflected not only in their personality but also in their everyday language, culture and even their way of seeing life – relaxed, calm and without much hurries and worries.
Enjoy the lifestyle that fits better for you!
Beach Living
Sun, sand and surf await at the Costa Rican most sought-after beaches. With incomparable views and the soothing tranquility of crashing waves, a beachfront property offers unmatched relaxation for both the mind and body.
Beach High Living, Santa Teresa, Puntarenas |   Represented by Alejandra Ibarra 
Mountain Living
The infinite views, enduring fresh powder, picturesque hiking and vast acreage of the mountains captivate minds and hearts alike. Experience unparalleled relaxation or unbridled excitement nestled in nature's highest altitudes.
Tranquil Mountain Cabin, Dota, San José | Represented by Wijbrand Tuinstra
Metropolitan
The lights, sounds, entertainment, gourmet cuisine and soaring architectural landscapes of metropolitan cities offer unrivaled excitement and elegance.
Signature Masterpiece Apartment, Rohrmoser, San José | Represented by Alejandra Ibarra
Do you need more reasons to make Costa Rica your second home? Contact Costa Rica Sotheby's International Realty to find the best home to start a new life in its paradisiacal land. We are sure that you will agree that Costa Rica is really "pura vida."