Set on the largest of the San Juan Islands, Eagle Crest Estate—offered for the first time—has made a splash in the luxury home market. With both local and national exposure, this exquisite estate, set on 127 private and tranquil acres of Orcas Island, provides a private retreat amid one of the Northwest's most exquisite getaways. For the future homeowner of Eagle Crest Estate, it's a setting worthy of royalty (or perhaps just two royals looking to evade the spotlight) with 3,000 feet of waterfront and breathtaking views of East Sound's beauty.
The estate, listed by Citrone Partners, Julie Biniasz and Sandy Justen, includes two gated entries, a mid-century modern beach house, two English Cottages, barns, orchards, and sprawling gardens and grounds. It is located just a short drive from the village and ferry landing, a quick 55-minute flight from Seattle or a relaxing trip aboard a yacht to private deep-water moorage.
In the Spotlight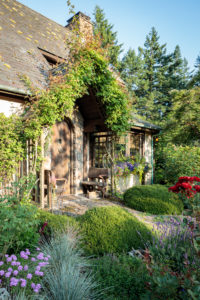 Featured exclusively in the Puget Sound Business Journal, Pattie Payne shared how the current owners came to own the exquisite retreat—the Spokane natives bought the first 21 acres of the property in 1995 when they were living in New York. Over time they acquired the adjacent property until they had everything they wanted.
Realtor.com recently imagined a world in which Duke and Duchess of Sussex Harry and Meghan were looking for a home not in Canada, but stateside. Eagle Crest Estate made for a perfect candidate, complete with English-style cottages to make Harry feel right at home.
Mansion Global was also taken with the grandeur of the property and highlighted that as a part of its restoration, the owners planted more than 14,000 trees.
The property video has drawn in an exceptional 46,000 views on the Sotheby's International Realty® YouTube channel. Here, you get a sense of the property's front-row seat to nature's bounty: eagles and seasonal migrations of birds soar overhead, deer roam the forest, seals bask on the rocks, and whale-watching opportunities are found nearby.
Eagle Crest Estate | Orcas Island | Offered at $28 M