That time of year is upon us again as the arrival of the Seattle Boat Show draws nearer! The largest boat show on the West Coast, with landlocked exhibits at CenturyLink Field and waterfront attractions at South Lake Union, features over 1,000 watercraft, enlightening seminars, and the latest in all things boating.
This year, the event includes some exceptional prizes, including a pair of 2015 Seahawks season tickets, a one year membership with Seattle Boat share, and a 7-night Mexican Cruise. In addition, there are a number of special events not to be missed as opening night goes "uncorked" with award-winning Washington wines from 5-9p, January 26th is "Women's Day" with free admission, special seminars, and a reception for women, and January 30th brings craft beer night with "Sails and Ales" from 5-9p.
The coming of this fabulous event has us thinking about how much we truly cherish the waterfront lifestyle and the unique opportunities it provides. According to the Sotheby's International Realty Luxury Lifestyle Report, we are not alone in our love of the shores, as most affluent consumers say a waterfront property sits at the top of their list for future purchases.
In addition, waterfront properties also comprise more lifestyle searches on sothebysrealty.com than any other type.
If you're following the trend and thinking of nestling on the water's edge, look no further than our exclusive collection of waterfront homes, sure to satisfy any seafarer, from Ordinary Seaman to Captain:
Whidbey Island Masterpiece, Langley
This magnificent estate showcases panoramic views of the Saratoga Passage, Cascade Mountains and Mount Baker. Situated on nearly 10 acres of private property including old growth forest and 330 feet of high-bank waterfront, the shingle style architecture reflects the Island's history while echoing elegant Eastern Seaboard and English Countryside Estates.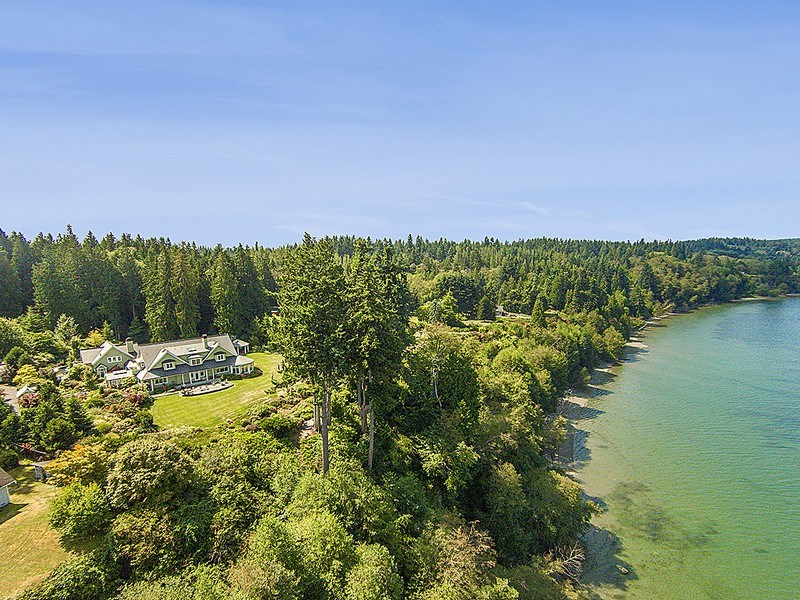 5 Beds   |   7 Baths   |   Offered at $5,500,000   |   More Information
Unique Waterfront, Bainbridge Island
An idyllic gated estate features 835 feet of low-bank waterfront with stunning water, mountain, and skyline vistas. The custom built shingled two-story gives way to gorgeous grounds with the opportunity to sink your toes into the sandy beaches and dock up at two mooring buoys.
4 Beds   |   4 Baths   |   Offered at $6,950,000   |   More Information
Dynamic views of nature and the Salmon Bay waterway where salt meets fresh water at the Ballard Locks pair perfectly with a private gated Zen garden by master gardener Hoichi Kurisu. A stunning cedar bridge spans plantings of Japanese maples, Rhododendrons and Azaleas, and two waterfalls (Ni Taki) create a sense of tranquility and peace as you enter the home.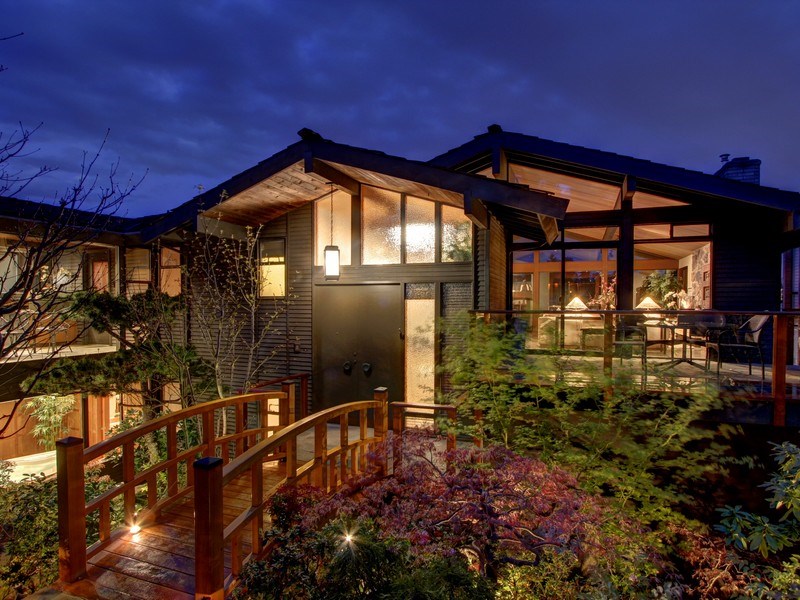 4 Beds   |   3.75 Baths   |   Offered at $1,888,000   |   More Information
Serenity on Mercer Island, Mercer Island
Behold this ready-for-permitting, new construction opportunity inspired by Garret Cord Werner, with fully engineered plans for a 8,235 square-foot Northwest Contemporary home on vacant land. The building lot (pending short plat) comprises nearly 101 feet of nearly flat no-bank waterfront, a park-like setting, walk-in beach and boat house with water rights for irrigation.
4 Beds   |   3 Baths   |   Offered at $3,988,000   |   More Information
Elegant Waterfront, Hunts Point
A vision of modern luxury awaits as you enter the private drive to this custom waterfront estate. The architecturally stunning residence claims 1.17 acres of street-to-water grounds where relaxed, refined living flows through the rotunda to light and airy spaces. A gracious living space blends between indoors and out as views of the lake and soaring eagles lend drama to the setting.
5 Beds   |   4 Baths   |   Offered at $8,500,000   |   More Information
Resort living at the lake provides views that truly mesmerize and a unique custom home that lives year-long indoor and outdoor. Perched above it all, the master suite offers stunning views of the Pacific Northwest. A dock with three lifts and spectacular gardens surround the home to truly epitomize an active lifestyle.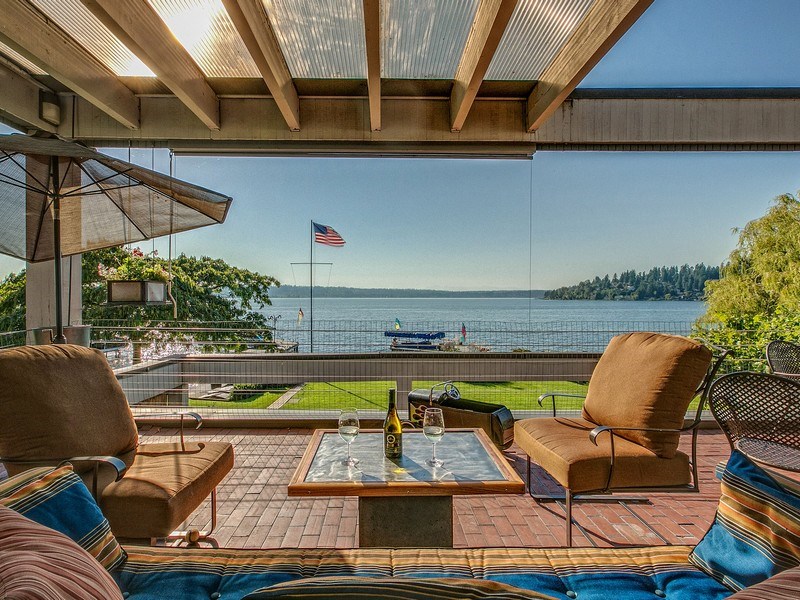 4 Beds   |   4 Baths   |   Offered at $3,675,000   |   More Information
Harbourside Condo, Bainbridge Island
Enjoy the marina setting and tranquil grounds of this penthouse condo, all within walking distance to the Winslow and Seattle ferries. A secured foyer entry leading to a keyed elevator ride opens to abundant natural light and unsurpassed views of life on the shores of Bainbridge Island.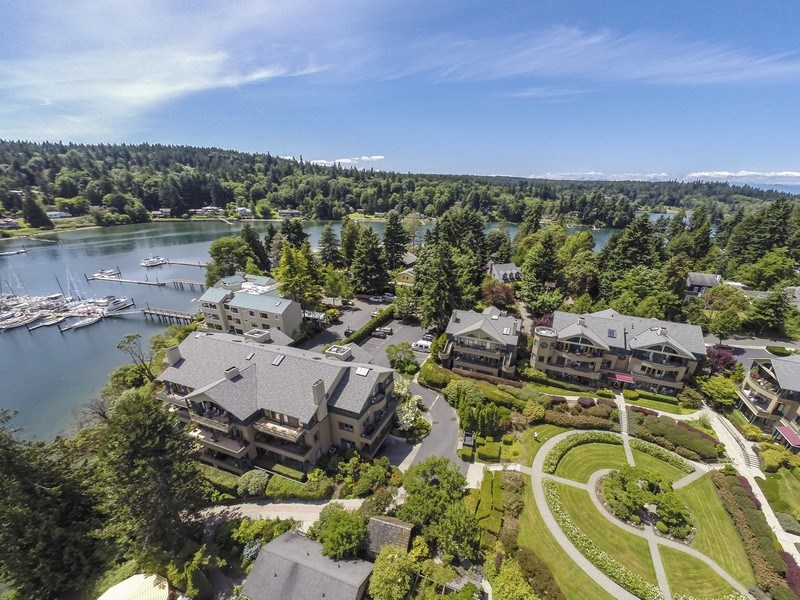 3 Beds   |   2.25 Baths   |   Offered at $1,175,000   |   More Information
Shimmering Lake Estate, Medina
A marriage of Mediterranean design and Oriental interior, this grand estate stands proudly on Lake Washington with 100 feet of shoreline and 1.78 acres of land from street to water. A gated flowing driveway leads to a colonnade portico offering a formal welcome through double doors. A formal dining room opens to the outside promenade where waterfront gardens can steal the night away.
7 Beds   |   6.75 Baths   |   Offered at $17,500,000   |   More Information
Waterfront Condominium, Kirkland
Experience the best views in Kirkland at this incredible waterfront corner unit with a modern beach chic vibe and vintage traditional feel. The large tiled patio provides the perfect space for watching life unfold on the Lake Washington waves and easily lends itself to excellence in entertainment.
2 Beds   |   1.75 Baths   |   Offered at $719,000   |   More Information
A premier spot on Motorboat Lake with 220 feet of west facing level waterfront means golf located across the street, boating and skiing, and unwinding at sunset on the deck at the water's edge. Featuring a pebble beach, 800 foot dock with covered boat lift, and impeccable design, this estate is perfect for year-round indoor and outdoor entertaining.
5 Beds   |   3.25 Baths   |   Offered at $2,175,000   |   More Information
Eagle Harbor Waterfront, Bainbridge Island
This Bainbridge Island waterfront home inhales light through expansive glass windows and lofty ceilings. The sweeping waterfront and territorial views never diminish with seasonal weather patterns stretching from the Olympic to the Cascade Mountain ranges. Situated in the tranquil Eagle Harbor amid a country atmosphere, relax and enjoy this spectacular home and lifestyle.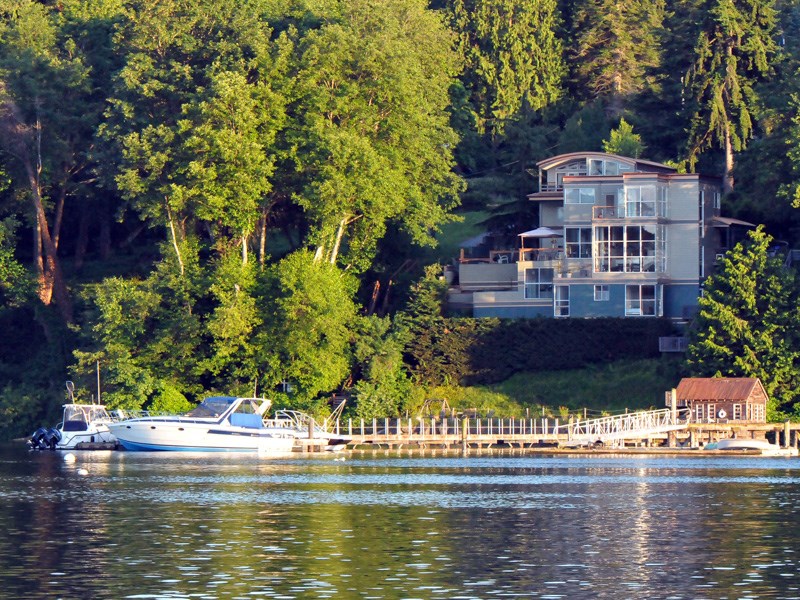 4 Beds   |   4 Baths   |   Offered at $2,098,000   |   More Information
Gated Waterfront Views, Lopez Island
This enchanting, gated residential compound is nothing short of paradise! Privately situated on over 3 acres with commanding panoramic views to Orcas, Obstruction, Blakely and Decatur, and 370 feet of high bank waterfront. Known simply as Sea Oaks, this hillside sanctuary is a must see!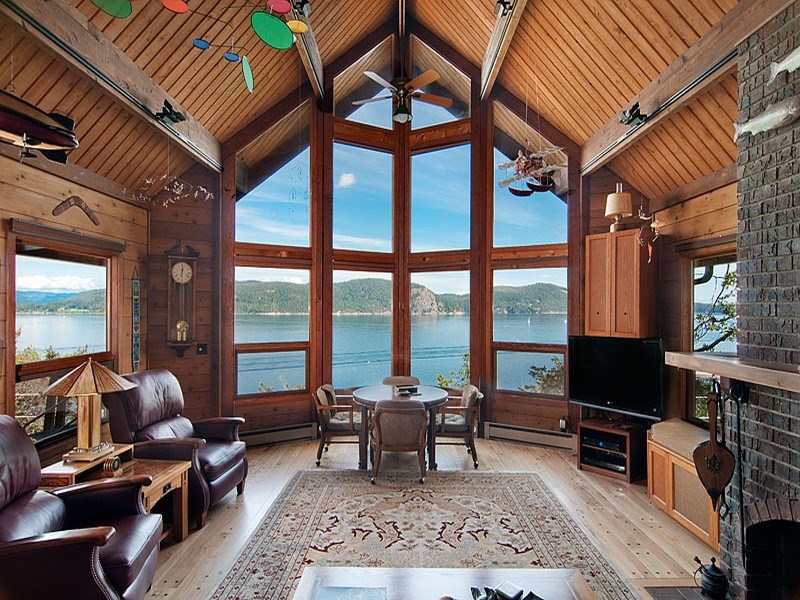 4 Beds   |   4 Baths   |   Offered at $1,399,000   |   More Information
Shaw Island Sanctuary, San Juans
Extraordinary meets Sanctuary with 2,100 feet of pristine waterfront, two private beaches, and 54 acres of serene surroundings. This west facing award-winning George Suyama architectural treasure sits peacefully amid nature. With a dock on the leeward side of the island, this amazing private compound has it all.
2 Beds   |   2.25 Baths   |   Offered at $4,900,000   |   More Information 
Exquisite luxury estate at the top of Taylor Bay offers one-of-a-kind views of the beautiful Puget Sound, Johnson's Point, and the breathtaking Olympic Mountain range. The luxurious master suite offers a fabulous private deck with views one can easily become accustomed to. The exterior spaces are terraced and architecturally designed to meet any and all of your outdoor needs, from the outdoor kitchen to the 280 feet of pebble beach waterfront, encompassing all the splendor of the waterfront lifestyle.
4 Beds   |   4.25 Baths   |   Offered at $1,150,000   |   More Information