When it comes to industry, commerce, the Royal Family, and parliament, London is a city of distinction. Renowned for its arts and culture, history, and iconic architecture, England's capital city receives millions of tourists every year. But even with its bustle and energy, London delivers some of the most green spaces per capita of the major cities in the U.K., and many boroughs serve as resplendent retreats on the city's doorstep. Here are five homes that honor London's heritage and look forward to its future.
All the Trimmings in Thurloe Place
Shereen Malik, United Kingdom Sotheby's International Realty 
A city of heritage and pedigree, London prides itself on the conservation of not only its culture but of its long-standing architectural identity. Refurbished to the highest of standards and providing well-proportioned living accommodation throughout, Thurloe Place reflects the city's rich history. Inside, this one-bedroom home features intricate parquet hardwood and tiled floors, decorative crown molding and wainscoting, and access to the building's inner private garden. Situated between Knightsbridge and South Kensington across the way from three of London's most prestigious museums—the Victoria and Albert Museum, the Natural History Museum, and the Science Museum—Thurloe Place provides quick and easy access to the city's historical center and a wealth of amenities.
Classic Proportions at Wellington Court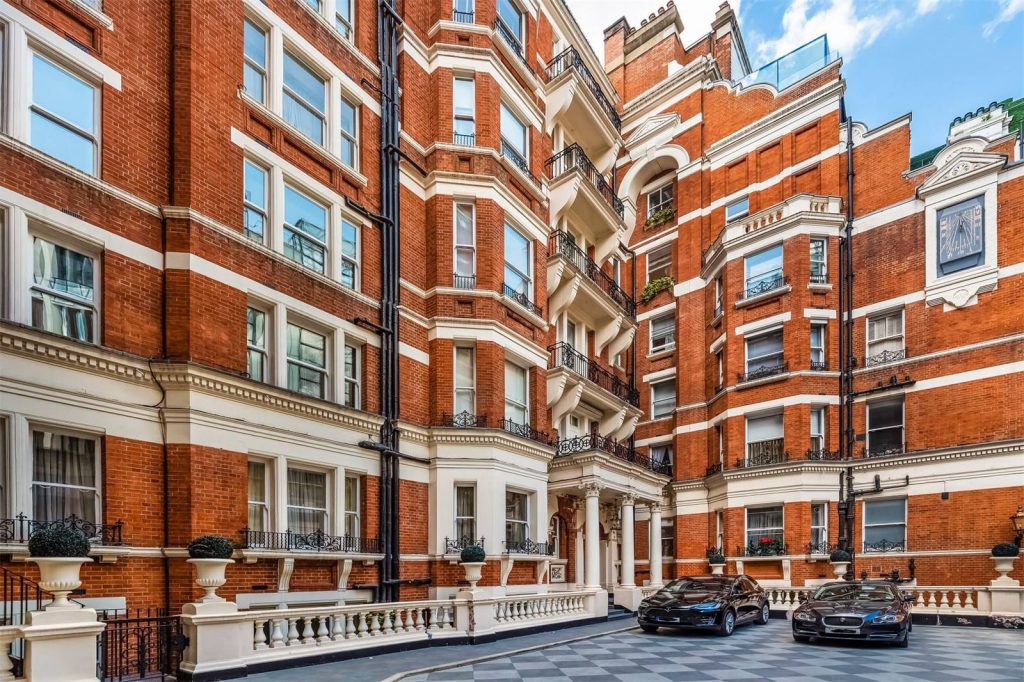 Shereen Malik, United Kingdom Sotheby's International Realty
Overlooking Hyde Park, considered the oldest park in the city, Wellington Court offers a stately four-bedroom apartment to the owner looking to put down English roots. Ornate wood and polished stone flooring invite you from the luminous entryway to the entertaining area, where the formal reception and dining rooms include a direct view of the park. A stone's throw from luxury department stores Harrods and Harvey Nichols, Knightsbridge is the home of some of the world's most exclusive fashions and home accoutrements.
Contemporary Luxury in Eaton Place
Shereen Malik & William Tremlett, United Kingdom Sotheby's International Realty
Spanning two buildings and a combined 6,485 square feet of lush details, this penthouse at Eaton Place in Belgravia offers unparalleled levels of refined dwelling. A short walk from organic markets, the renowned Saatchi Gallery, and an early 20th-century concert hall—home to the Royal Philharmonic Orchestra—Belgravia is a microcosm of culture tucked away in one of West London's more undisturbed neighborhoods. Thoughtfully redesigned, this penthouse occupies an impressive three floors and features two entertaining spaces as well as a spectacular lounge. The adjoining rooftop terrace commands south-facing views of Central London. Finished to reflect the Regency architecture of the building while welcoming in the tenets of contemporary design, the timeless features and materials of this six-bedroom home reflect the legacy of the area.
Future Luxury Along the South Bank
Catharine Che, United Kingdom Sotheby's International Realty
Set to be a towering addition to the city skyline, One Blackfriars indicates London's intention to lead design in the 21st century. With views across the River Thames to St. Paul's Cathedral and the Houses of Parliament, the vista from One Blackfriars is unmatched. The interiors have been designed with inspiration from the cultural life of the South Bank and infused with sumptuous materials such as Italian marble and bespoke joinery. Onsite comforts and amenities include a 20-meter swimming pool, private screening room, golf simulator, and a private Zen garden, taking at-home recreation and leisure to new heights. Located between the Southbank Centre and the Tate Modern, One Blackfriars brings some of the world's preeminent cultural incubators within arm's reach.
Tranquil Surroundings in Primrose Hill
Lee Koffman, United Kingdom Sotheby's International Realty
On the north side of Regent's Park, one of London's Royal Parks, Primrose Hill boats one of the best viewpoints in the city. From a gentle incline on the west side of the city, the skyline can be seen clearly from above the treetops. At St. Edmund's Terrace, award-winning architecture casts a modern vision for city living: the interiors of this three-bedroom apartment are generous at 2,567 square feet and outfitted with herringbone floors, marble countertops, and a freestanding soaker tub. An impressive entrance hall and reception area welcomes you home. Accents like the fireplace partition distinguish spaces while still allowing for an organic flow and movement from room to room.
Deciding on a luxurious flat won't be hard when choosing from the distinct, grand neighborhoods of the English capital. Whether your must-haves include nearby green spaces and museums or breathtaking city views, London has the answer in spades.
If London is only the first stop on your international itinerary, read more about the world's most glamorous cities.