Written by William Hillis, Research Editor & Publisher, RSIR
Puget Sound real estate pundits who jumped the gun on home price declines through the autumn and winter of 2018 may at last see prices fall in 2019. Homes in neighborhoods that previously fetched the highest prices suddenly face much longer market times before sale.
Pacific Coast Home Price Advances Have Slowed
The December 2018 Case-Shiller Home Price Index shows the rate of increase of residential prices in the Seattle metropolitan statistical area ("Seattle MSA") slowing for a sixth straight month. As a result, Seattle has fallen from third to eleventh in the nation among the cities tracked by the index. In the S&P/Dow Jones press release accompanying the report, David M. Blitzer, Managing Director and Chairman of the Index Committee observed,
Regional patterns continue to shift. Seattle and Portland, [Oregon] experienced the fastest price increases of any city from late 2016 to the spring of 2018; in December, they ranked 11th and 16th. Currently, the cities with the fastest price increases are Las Vegas and Phoenix. These are a reminder of how prices rose and collapsed in the financial crisis 12 years ago. Despite their recent gains, Las Vegas and Phoenix are the furthest below their 2006 peaks of any city followed in the S&P CoreLogic Case-Shiller Indices.[1]
The index reports the change from an October 2006 baseline, so the lower index result simply means that through 2018, residential prices were not rising as quickly before. Prices in the Seattle MSA, comprising King, Pierce, and Snohomish Counties, did not fall in any month of 2018; neither did prices decline in the city of Seattle or any of eight Western Washington counties.[2]
Reporting on the release of the Case-Shiller December results on February 26th, Mike Rosenberg of the Seattle Times continued a pattern established in reports since autumn or erroneously portraying Seattle's index decline as an outright home price slump:
The monthly Case-Shiller home price index, released Tuesday, showed prices fell another 0.6 percent on a month-over-month basis in the Seattle metro area in December, although for the first time in five months it did not lead the country in declines.
For the first time, however, Mr. Rosenberg followed the lead of Realogics Sotheby's International Realty (RSIR), in delving further into the internal differences in prices within localized areas. He referred to a report tracking prices of upper, middle, and lower-priced homes within fixed price boundaries, rather than RSIR's more accurate partitioning of the market by percentiles of selling prices.[3]
The most expensive homes, which are generally found in Seattle, the Eastside and upscale homes in farther-out communities, have seen their prices increase three percent in the past year, or roughly the same as inflation.

But prices grew nine percent in that span for the cheapest group of homes, mainly in Pierce County, northern Snohomish County and some smaller homes in more close-in areas.

As for the middle group — which includes plenty of homes in South King County and southern Snohomish County — home values grew five percent.
At RSIR, we use data from the Northwest Multiple Listing Service (NWMLS) to track single-family home and condominium prices in dozens of Western Washington communities by percentiles of selling price: at the 25th, 50th, 75th, and 90th percentiles. This method allows us to compare quarterly selling prices across communities throughout the region from the entry level through the high end. Our analyses of these data do not confirm the statements in the Seattle Times report. Rather than showing prices at the bottom outpacing prices at the top, in several communities with high-volume sales, fourth-quarter prices at the bottom fell, while prices at the top continued to rise.
The upper bound of the lowest quarter of residential selling prices did rise year over year in each quarter of 2018 at Everett, Puyallup, Renton, Redmond, Kirkland, and North Seattle. Yet among those areas, only in Puyallup and Redmond did fourth-quarter increases at this level exceed the those at the 75th percentile of selling price. Meanwhile, in Kirkland, West Seattle, Central Seattle (including Capitol Hill and Madison Park), and most notably downtown Seattle, fourth quarter prices at that same lower bound fell while prices at the high end continued to rise. Even in Bellevue, Ballard and Green Lake, where prices declined from top to bottom along the spectrum, prices at the low end fell fastest.
Contrary to the Times report, findings from these cities show prices first encountering resistance at the bottom—unsurprisingly so, as FHA buyers and low-end investors are at highest risk of taking losses if prices drop.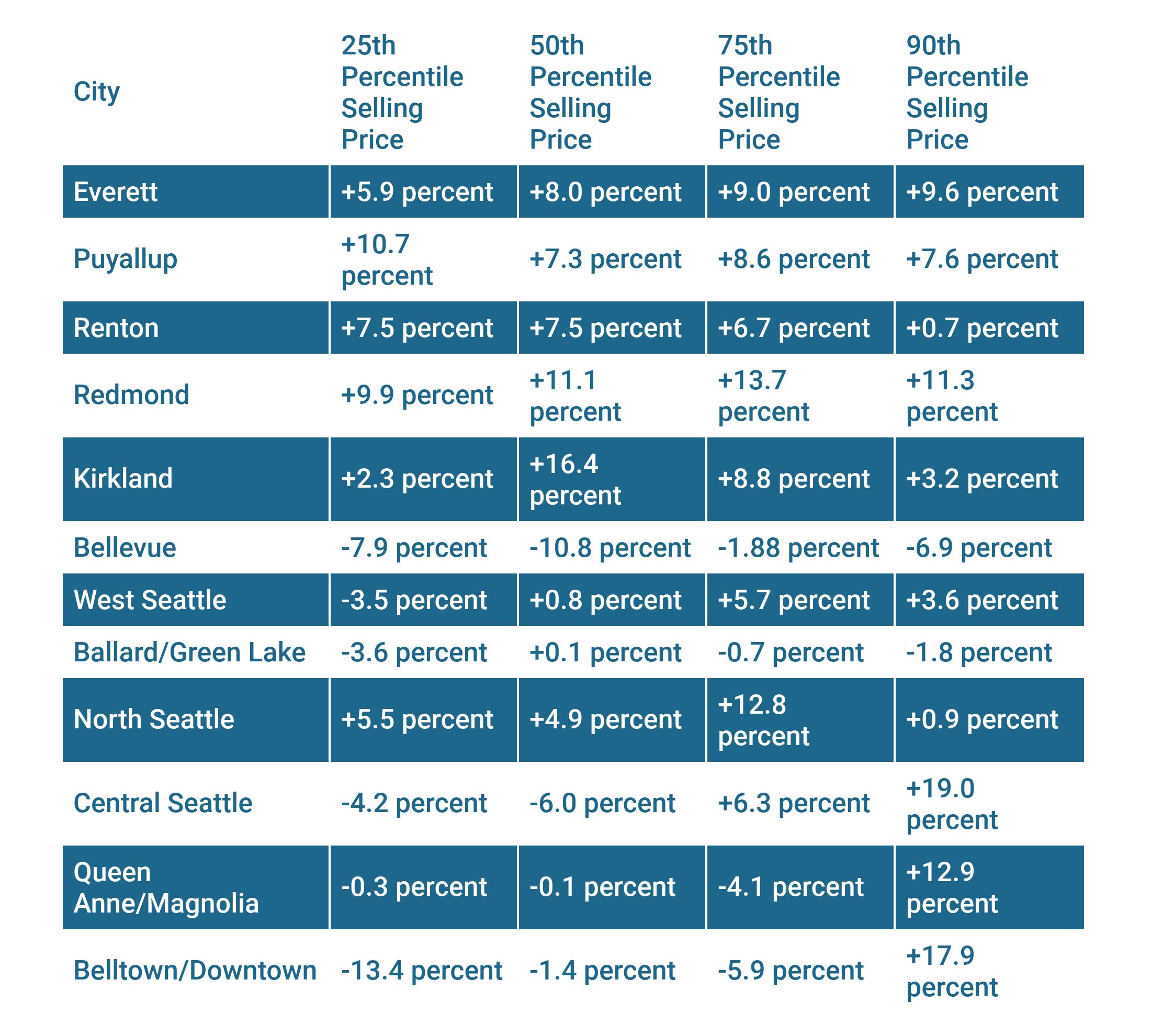 What Does 2019 Hold in Store?
While in most Puget Sound communities, prices were resilient through 2018, Seattle's history on the Case-Shiller Index and NWMLS prices during each year following a run of negative results such as that seen in the past few months suggest a reversion to trend in 2019. This likelihood is reinforced by protracted market times in King County during the fourth quarter of 2018.
The last two negative runs on Case-Shiller of six months or more each started in August of 2010 and 2011. Both lasted seven months. Here is how median residential prices ended in those years and the following year (2012) in King, Pierce, and Snohomish Counties.
2010   |   $300,000
2011   |   $265,000
2012   |   $285,000
And thus, here are the corresponding year-over-year changes in those prices:
2010-11   |   -11.67%
2011-12   |   +7.55%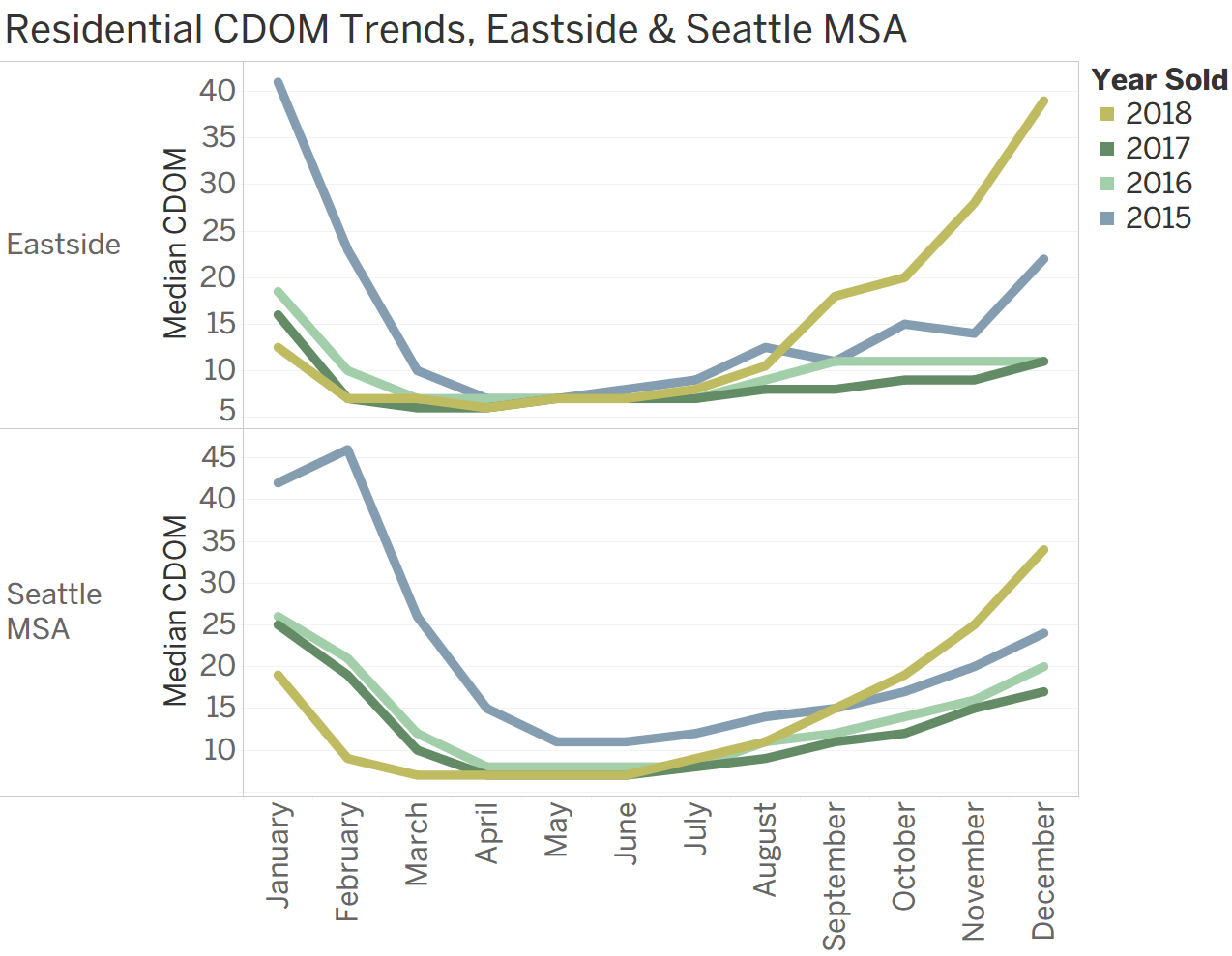 Market times suggest that residential prices are in for a retracement. While Seattle drifted lower on the Case-Shiller Index, the median cumulative days on market ("CDOM") rose by 66.7 percent in November and doubled the previous year's figure by December in the Seattle MSA. On the Eastside, market times more than tripled year-over-year by November and were up by more than 250 percent by December. Meanwhile, Eastside monthly median residential prices started slipping in December 2018, and more than doubled that month's year-over-year decline in the following month.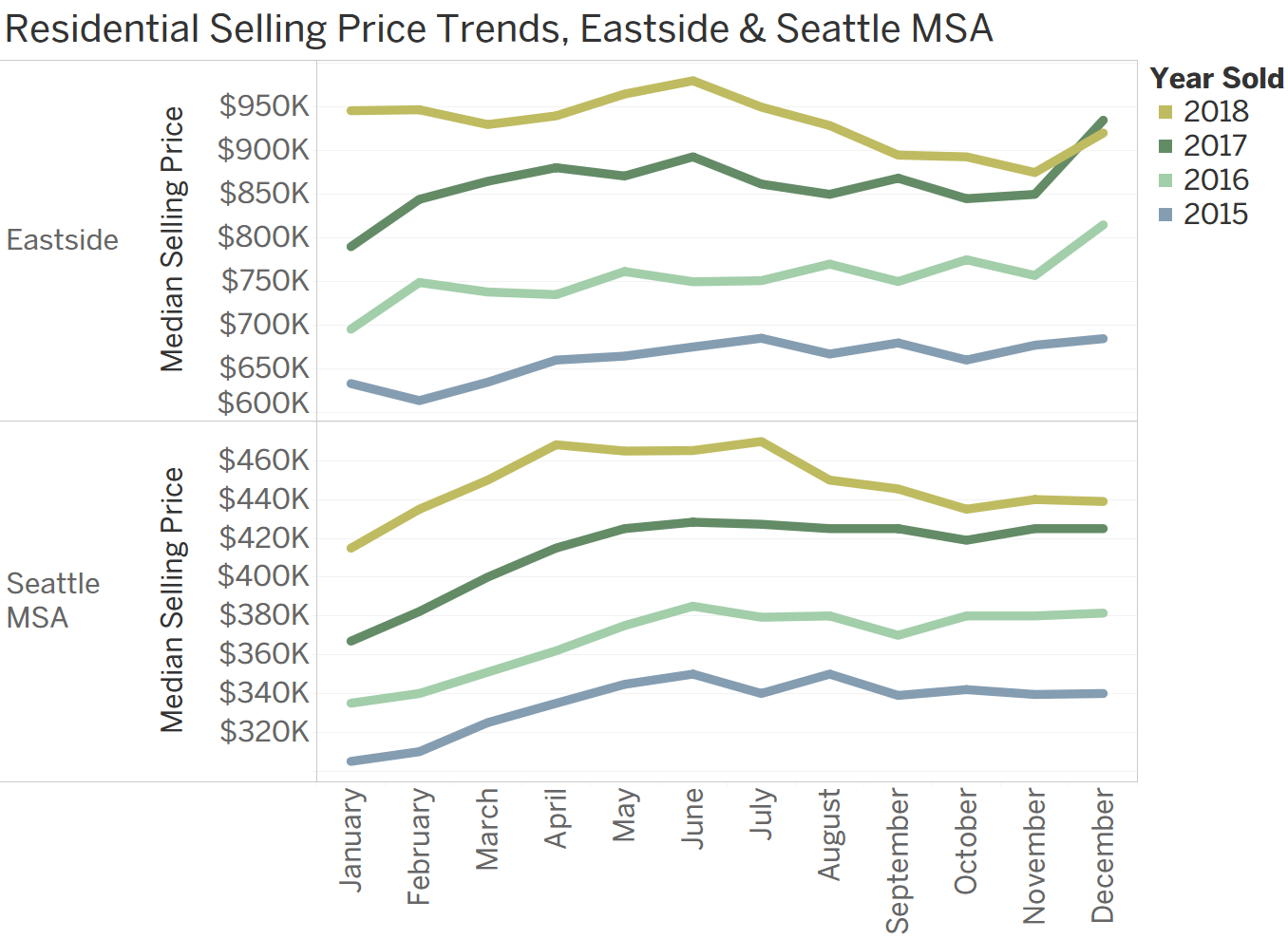 A safe bet is a brief general downtown with prices reverting to the five-year trend.
In March 2019, RSIR will publish the 2018/2019 Market Report, with deeper insights into residential and condominium markets across the Puget Sound region. The report will include a retrospective on 2018 as well as a "look ahead" at trends to watch this year. Request a print copy from your RSIR broker or click here.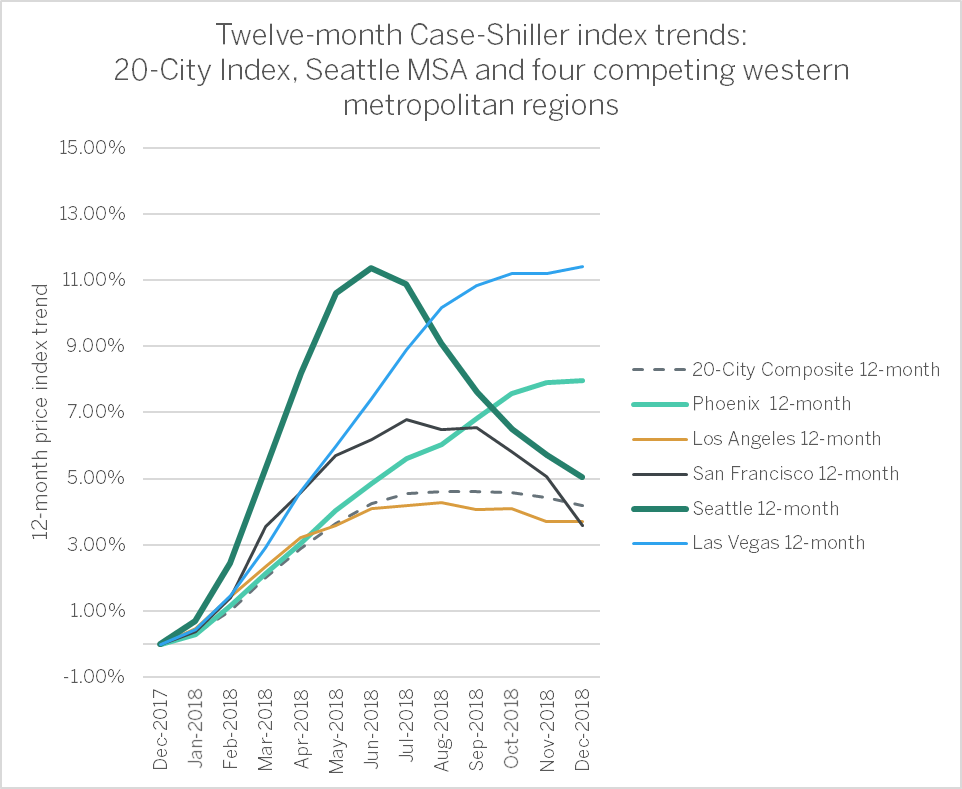 For more details on the December Case-Shiller Index results, download the S&P Dow Jones Case-Shiller summary report. For details on the implications for homes in your neighborhood, contact a local RSIR broker for their latest analysis.