Updating a historic home can be a lot like playing professional cards; the stakes are high and the outcome is uncertain. Even the most cautious mover can damage custom wainscoting or dent the parquet flooring. The stress of attempting to bring current furniture into a traditional home can be intimidating, and reason enough to fold.
Charlottesville, Virgninia   |   Ann Hay Hardy, Frank Hardy Sotheby's International Realty
Thankfully, there are a number of ways to simplify your next contemporary redesign. Here, we've reenvisioned—both practically and digitally—the stately rooms of Gallison Hall, whose historic lines leave room for tasteful present-day updates.
Futuristic Solutions to Current Challenges
There are few things more disheartening than realizing a purchase doesn't suit a room or a furnishing doesn't fit in an intended corner. Depending on the home and the vision, picturing future furniture in an existing space can be a challenging task.
For this design hurdle, there is Curate by Sotheby's International Realty℠, an immersive augmented reality app available for download on the iOS App Store and Google Play. The first virtual staging AR app from a real estate brand, Curate allows users to preview furniture using their smartphone. When it comes to revamping a traditional space, the possibilities are now at your fingertips.
Make the Most of Shapes
Virtually Staged with Curate by Sotheby's International Realty
Take this room in Gallison Hall as an example. Like most historic homes, this landmark property in Charlottesville, Virginia offers beautiful features that make a statement all on their own: crown moldings, herringbone hardwood floors, and ornate fireplaces abound. However, these distinct styles can be challenging when it comes to making contemporary pieces work within a traditional space.
Virtually Staged with Curate by Sotheby's International Realty
In this instance, a tool like Curate allows you to outfit the room with modern furnishings to envision what works, and what won't. Here, virtual furnishings—the round forms in a contemporary lamp, coffee table, and two accent tables—contrast with the linear details of the floors and recessed wainscoting, while echoing the curved lines of the mantelpiece. This creates visual interest while honoring the room's heritage.
Take Advantage of Contrasting Colors
Adding furniture in tones that contrast the hues of a historic house is a great way to complement—rather than compete with—the home's foundations.
The crisp, creamy whites of the contemporary sofa and wingback chairs in this professionally-staged room create a striking contrast with the home's rich mahogany walls. Moody blue ikat and a hide rug keep the space feeling eclectic and unexpected.
Alternatively, invert the contrast by keeping walls neutral and dialing up the drama with vibrant pops of color, like the cerulean accent chairs and emerald coffee table in this living room. The variety of furniture options in Curate makes it possible to preview a range of different colors in a space, allowing you to contemplate a shade without having to do any heavy lifting.
Embrace Transformational Textures
If you're still uncertain about incorporating contemporary fixtures into a historic home, layering in texture is both an easy and noncommittal place to start. It can transform an otherwise average room into a layered, multidimensional space.
Introducing contemporary rugs, like these shag or jute pieces, can help warm up traditional spaces, while at the same time adding contrast and visual interest.
Not sure about the weave of a modern throw or a pile of a shag carpet in a traditional space? Pre-test textures virtually. While the potential of AR is still only just being tapped, its ability to assist in projecting concepts and testing ideas is already at hand. Here, a woolen throw and geometric carpet bring a cool modernism to a warm spare bedroom in Gallison Hall. Dislike your handiwork? It's gone with the click of a button. Give yourself an additional vision board and get creative without incurring the cost of the wrong upholstery or color choice.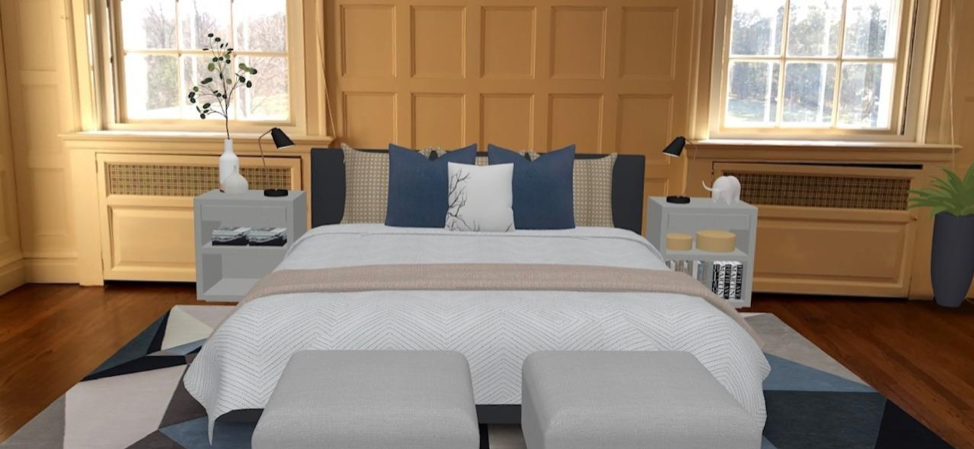 Virtually Staged with Curate by Sotheby's International Realty
Not all design projects are created equal: the stakes can be significantly higher when it comes to updating a one-of-a-kind historic home. Armed with a few key tips (and the power of augmented reality), you'll be more than ready to tackle a redesign the next time inspiration strikes.
Looking for more interior design tips? Try out these modern colors as you embrace both the future and the past.