As predicted by Realogics Sotheby's International Realty (RSIR) earlier this summer, Seattle-area home prices are reaching new heights and that pressure may be best illustrated by the tight in-city housing market of downtown Seattle.
In July 2015, 135 condominiums closed, representing a whopping 221% increase year-over-year while median home prices edged higher by 15% settling at $510,000. That's the highest median home pricing ever in downtown Seattle, eclipsing previous records set in 2007. Upon further research, 91 of those recent closings in July were incubated presales at Insignia, which began closing in July 2015. It's important to note that many of these presales were garnered in 2012, 2013 and 2014 and more current trends point to significantly higher prices.
Consumers should expect steady increases in the months ahead as more presold homes are closed, especially considering many homes left to close are pending at much higher values. There are currently 295 pending condominiums set to close in downtown Seattle with a median home price of $685,000. Demonstrating the strength in presales, Insignia has logged 246 of those pending sales with a median home price of $707,950 and averaging $751 per square foot.
The total active inventory in downtown Seattle remains anemic with just 73 condominiums for sale and sporting a median home asking price of $810,000 or $818 per sq. ft.  When removing the new construction inventory there are only 50 actual resales available with a median home asking price of $639,000 and averages $754 per sq. ft.  The balance is comprised of 23 new construction units, which are priced much higher with a median home asking price of $1,446,000 or $968 per sq. ft.  These include several developer-owned units that remain from the last housing cycle projects including Escala (delivered in 2010) shell (unfinished) penthouses and unsold, new construction homes at Four Seasons Private Residences (delivered in 2009). Clearly, these investment groups anticipated the rebound of housing prices and resisted the pressure to sell below their replacement value and preferred to wait.  In the most extreme case the full floor penthouse at Millennium Tower (delivered in 2000) remains available as a 9,876-sq. ft. shell (unfinished) for $8,000,000.
Not all new construction units are listed on the NWMLS, as developers typically only post a sample of their actual supply.  While there are 865 new construction condominiums being developed in two projects, Insignia in Belltown and LUMA on First Hill, experts believe more than half of those homes have already been sold with prices expected to average between $750 and $850 per sq. ft., significantly higher than the average resale market.
The following graphic developed from data provided by Realogics, Inc. suggests the likely trajectory of the downtown Seattle condominium market overall:
As illustrated above, the arrival of new construction inventory at Insignia is having a significant effect on the total number of sold units and is partially responsible for a spike in median home prices.  Looking forward, experts anticipate continued growth in both the total number of units absorbed and increased pricing.
"New inventory is critical because it provides a place for existing homeowners to move up to – without it many would-be buyers are staying put concerned they will sell quickly and may wait years for a new home," said Dean Jones, President and CEO of RSIR. "It's one of the reasons we have such limited resale inventory.  We need more developers to introduce more supply but that's not going to happen overnight.  In the interim we'll face steep escalation in pricing."
You'd think that increasing demand for condominiums would encourage more development, but so far developers have preferred to build apartments citing less risk and similar returns as outlined in a recent article by The Daily Journal of Commerce.
Many of these market predictions were recently published by the Puget Sound Business Journal   in a special report entitled "The Manhattanization of Seattle," which took stock of the in-city housing market and compared the buy vs. rent opportunity.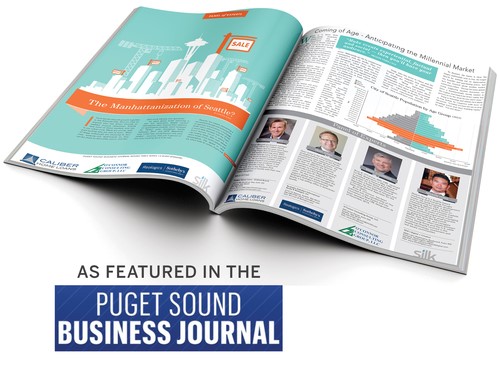 Also noteworthy, July marked the sellout of Carbon 56 – a 56-unit condominium development in South Lake Union. Originally delivered in 2008, Carbon 56 was reverted to apartment use following the downturn, only making its comeback as a condominium more recently. This condominium "reversion" demonstrates the inflection point as consumers are increasingly attracted to ownership over rental.  Interestingly, the final 20 homes achieved similar if not higher prices to 2007 when they were taken off the market (adjusted for floor level and view).
"Most of our buyers were coming out of nearby rental apartments and took advantage of the opportunity to build personal equity rather than continue leasing," said RSIR broker Carrie DeBuys, the listing agent for Carbon 56. "It's a very confident time to buy."
RSIR and Caliber Home Loans recently launched a campaign called #NoPlaceLikeOwn, attempting to educate renters on the approaching trends.  Last week, representatives of both companies invited new and prospective homebuyers on a Cycle Saloon tour of South Lake Union to raise awareness and promote their upcoming Homebuyer Symposium Events scheduled for August 26th in Seattle and August 27th in Kirkland.
"Renewing that lease for another year may be more costly than you'd think," adds Jones. "It's not only the spiking rents or the lack of income tax deductions, it's the increasing cost of buying into the future market.  With median home prices increasing at double digits each year and no significant improvement in the amount of supply in the pipeline, I fear the market is only going to get tighter.  This is especially the case for luxury condominiums in popular buildings."
Jones points to limited selection and fast sales.  Of the 44 resale homes that closed in July 2015, the average time on market was just 30 days but the majority of the sales were closed in less than 10 days.  Most notable were three sales at Fifteen Twenty-One Second Avenue by RSIR's Citrone Partners team, which sold almost immediately, ranging from $1,680,000 to $2,400,000 ($972 – $1,316 per sq. ft.).  Broker Scott Wasner likewise had a significant resale at the Four Seasons Private Residences where a 1 bedroom home sold for $1,142,000 ($1,116 per sq. ft.) in less than one month.