Returning as featured panelists, Dean and Stacy Jones of Realogics Sotheby's International Realty (RSIR) represented the Pacific Northwest region attending the 2015 Asian Real Estate Association of America (AREAA) Global + Luxury Summit. The annual event, which draws more than 700 members from around the world, was held at the newly completed Trump Hotel in Chicago on April 19-21. This was the third consecutive event attended by the Jones', which also spoke at the 2013 summit in Honolulu and the 2014 summit in New York City. Sotheby's International Realty was a proud sponsor of the program and drew the largest turnout from any brand worldwide with 70 affiliates in attendance – more than twice the number of the second largest turnout.
"We are passionate members of AREAA and are grateful to showcase our region to this global audience," said Dean Jones, President & CEO of RSIR. "The increase in AREAA membership year-over-year is further evidence that we live in a global village and real estate brokers are eager to participate in the trends."
In addition to the Jones', co-founding member Denise Seavitt of the RSIR Kirkland branch office was also in attendance. There was also a large attendance by Jameson Sotheby's International Realty being that Chicago is the 2015 host city for the AREAA summit. Representing the Sotheby's International Realty franchise group was both regional and international attendees Jon Meschke, Vice President of the Western US and Michael Valdes, Global Vice President, respectively.
Reception host Michael Valdes, Global Vice President of Sotheby's International Realty welcomed the many guests that traveled from around the world to attend the AREAA Global + Luxury Summit. Mr. Valdes affirmed that AREAA plays an important role in bringing together countries, brokerage firms and ultimately individual homeowners and investors. Sotheby's International Realty has been an annual sponsor of AREAA programs and consistently produces among the greatest affiliate turnouts among the attendees.
"I'm very proud of the leadership in Sotheby's Internationally Realty for supporting industry forums such as this," said Stacy Jones, Owner of RSIR. "AREAA has provided RSIR with an incredible platform to represent our region and make important referral contacts around the world."
The conference officially kicked off with a welcoming address by Carmen Chong, 2015 AREAA Chairwoman who shared updates about AREAA's growth and continued mission. She also moderated a panel discussion with leading experts on the trends affecting global citizenship and investment, which included Rick Davidson, President & CEO of Century 21 Real Estate; Ryan M Gonsalves, HSBC Hong Kong; Jonathan Smoke, Chief Economist for Realtor.com; John Wong, AREAA National; and Lawrence Yun, Chief Economist for the National Association of Realtors. Among the most notable predictions was that foreign demand for US real estate was going to continue compounding, especially from China because of the strength of the Chinese Yuan to the US dollar.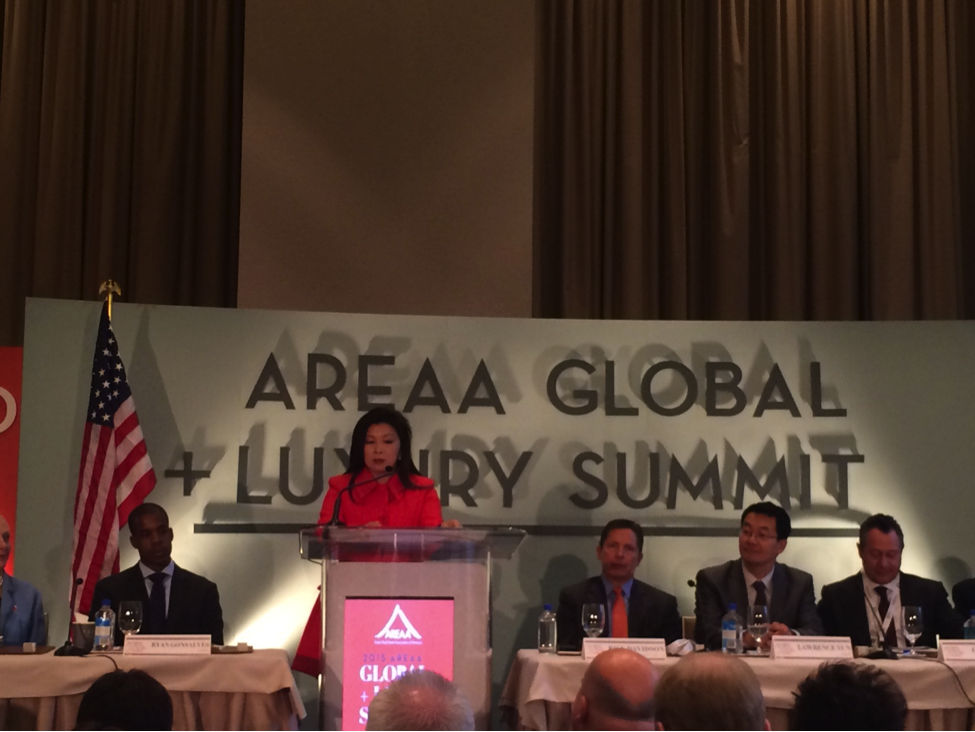 During the afternoon Dean Jones was a featured panelist at a session entitled "Top Luxury Specialists", which was moderated by Vicky Silvano, the 2015 AREAA Vice Chairwoman. In addition to representing the Pacific Northwest, the panelists also included Robert Canberg of Nest Seekers representing the Hamptons; Ivan Sher of Berkshire Hathaway representing Las Vegas; and Craig Hogan of Coldwell Banker representing Chicago.
Each of the panelists provided a brief overview of their luxury markets and shared best practices on how they cultivated their careers as top-producing brokers. Jones was introduced as being "a little different" because he doesn't actually sell but owns a fast-growing brokerage firm and seeks to provide the tools for his brokers to be successful.
"We are now recognized as the fastest-growing city in America with less than 4-percent unemployment, median home prices rising more than 10-percent year-over-year and unprecedented opportunities for young talent," summarized Jones. "We have a real economy with structural demand and the recent trends for foreign direct investment and immigration are on top of that. Yet we are still relatively affordable compared to the other gateway West Coast markets that have already seen years or decades of foreign demand, hence I think we have the highest propensity for capital appreciation ahead."
He explained how following the foreign demand trends led to the creation of his Asia Desk, which is a team of independent brokers specialized in the languages and logistics required when working with overseas buyers. Jones further provided an outline of why the Seattle/Bellevue metro area has found favor with overseas buyers and announced the debut of the video documentary "East Meets West", which provides a compelling look at the international demand behind the trends.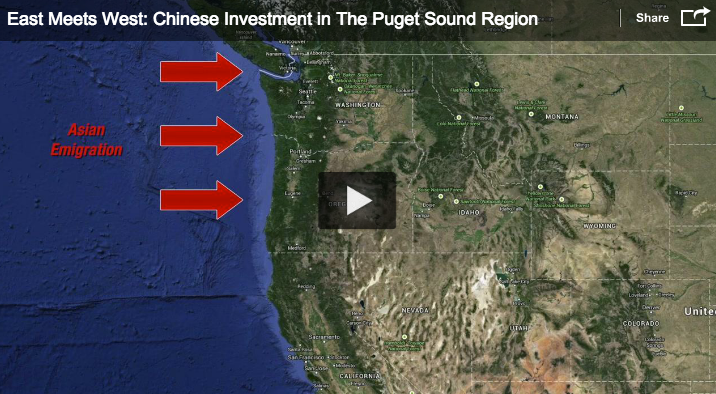 Jones reminded the audience that it was only two centuries ago that Manhattan was a young, modest settlement for new immigrants arriving to the US from European countries to create a new life overseas. He suggested the same trend is now taking place in the Pacific Northwest albeit this time it is investors and immigrants from Asia, most notably from China and India. It turns out that the Seattle/Bellevue metro area has a lot in common with Manhattan in that both high-density submarkets are comprised of approximately ten miles by two miles; both have an Eastside and a Downtown; and both have a Central Park amenity referring to Lake Washington as said park. He explained that Seattle is becoming a large city with small city infrastructure and the Growth Management Act of Washington combined with surrounding water and mountains is restricting high density to the urban cores.
"Well I'm convinced I may need to move to Seattle," mused Silvano immediately following the presentation by Jones.