VIP Guests, Brokers and Musicians "Playing Music in the Sun"; Tour Rock Legend's Estate
On July 6th, scores of guests attended a first-of-its-kind rendezvous at the home of Rock & Roll Hall of Fame Steve Miller, of the Steve Miller Band. Mary Norris, a Senior Global Real Estate Advisor with Realogics Sotheby's International Realty (RSIR) hatched the plan to showcase this unique compound on its namesake in Friday Harbor on San Juan Island, which invited local and Seattle-area brokers as well as VIP guests.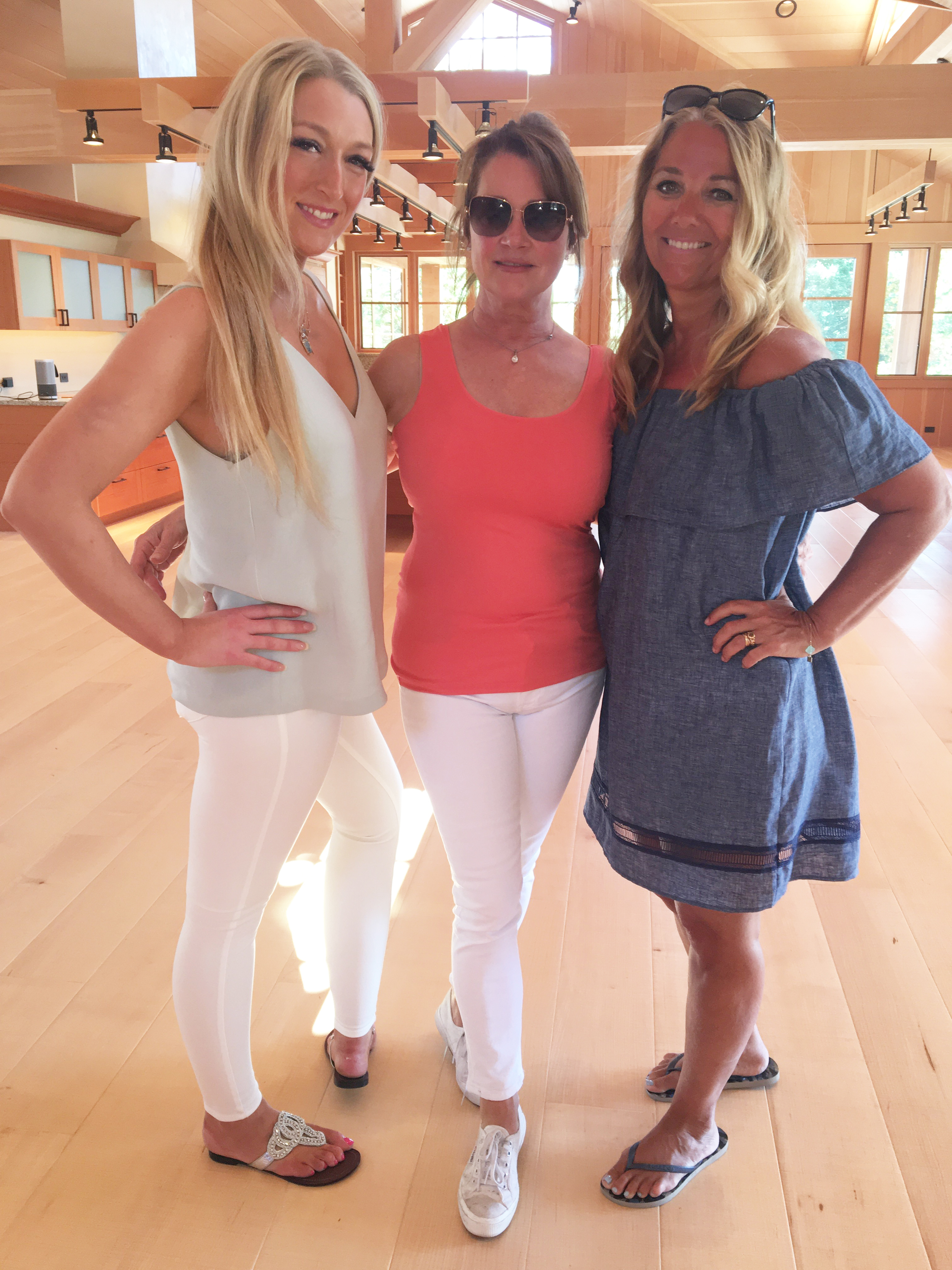 Mary Norris (center) & Paige Norris (left) welcomed rendezvous guests to the main home at Friday Harbor Estate.
"We couldn't resist an opportunity to welcome the many affluent visitors that frequent the San Juan Islands during the 4th of July holiday season," said Norris. "The waterways were teeming with beautiful yachts of all types and those wanting to visit by boat arrived at one of the most envied private moorage facilities in the region."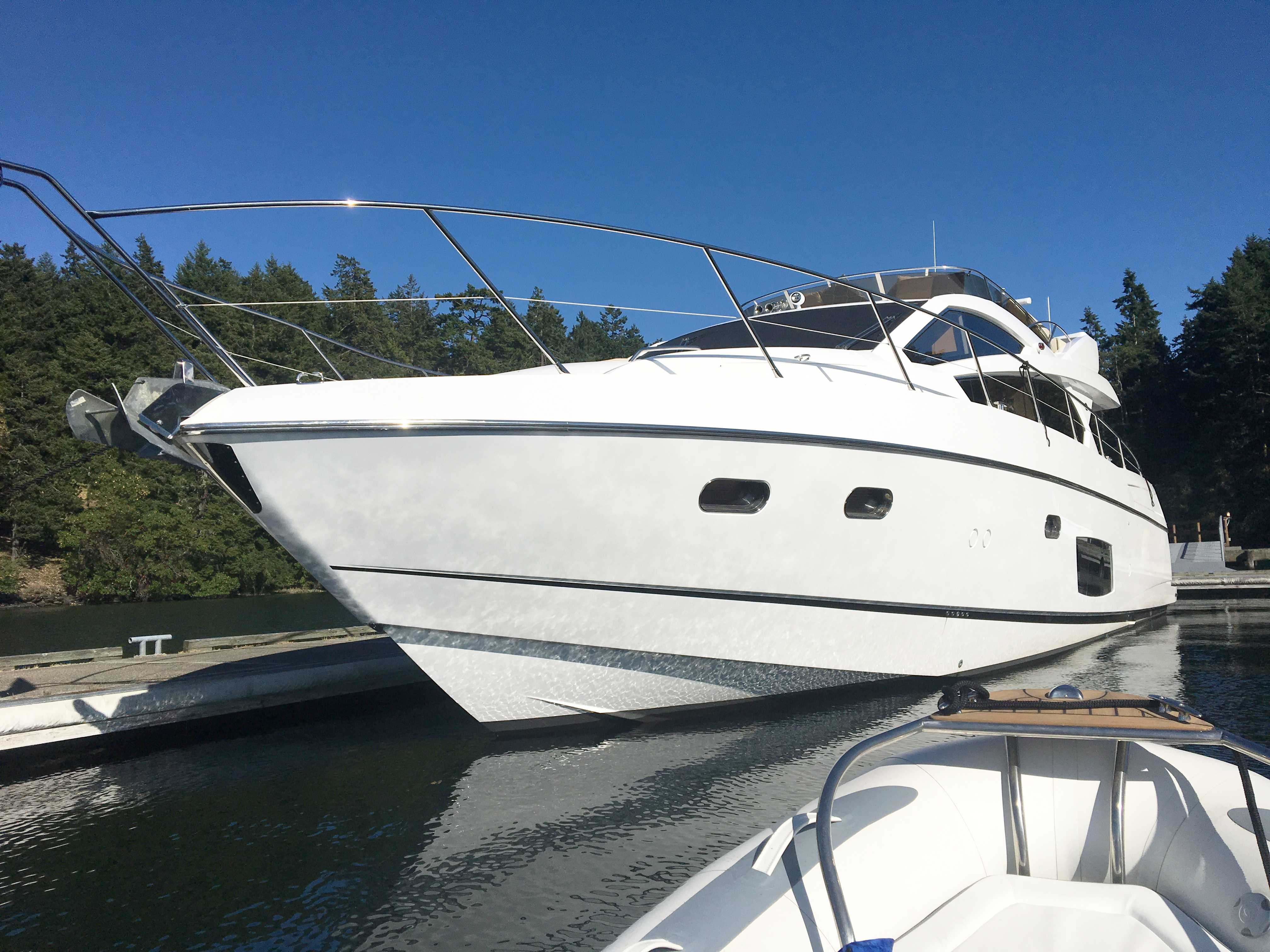 Nicknamed the "Gucci Dock," the next steward of Friday Harbor Estate will enjoy a 110-foot long, deep water finger pier with private moorage.
Norris is referring to the exceptional dock system enjoyed by Miller's former yacht, ABRACADABRA, so named after the hit song by Steve Miller Band. The 110-foot long, deep water finger pier can actually sport up to three large vessels with the sufficient shore power and utilities that befit this protected cove. The dock system is connected to the shoreline by an elevated 360-foot causeway and leads to a large meadow where guests were greeted by lawn games and live music by Orcas Island native Robbie Christmas. A welcome tent offered shade and bites from local catering icon Market Chef, with wine tastings by DeLille Cellars poured by none other than Greg Lill himself. Lill shared several selections from his personal library including older vintages.
Above & Below: Guests were greeted in the meadow with local favorites by Market Chef and pours by Greg Lill of DeLille Cellars.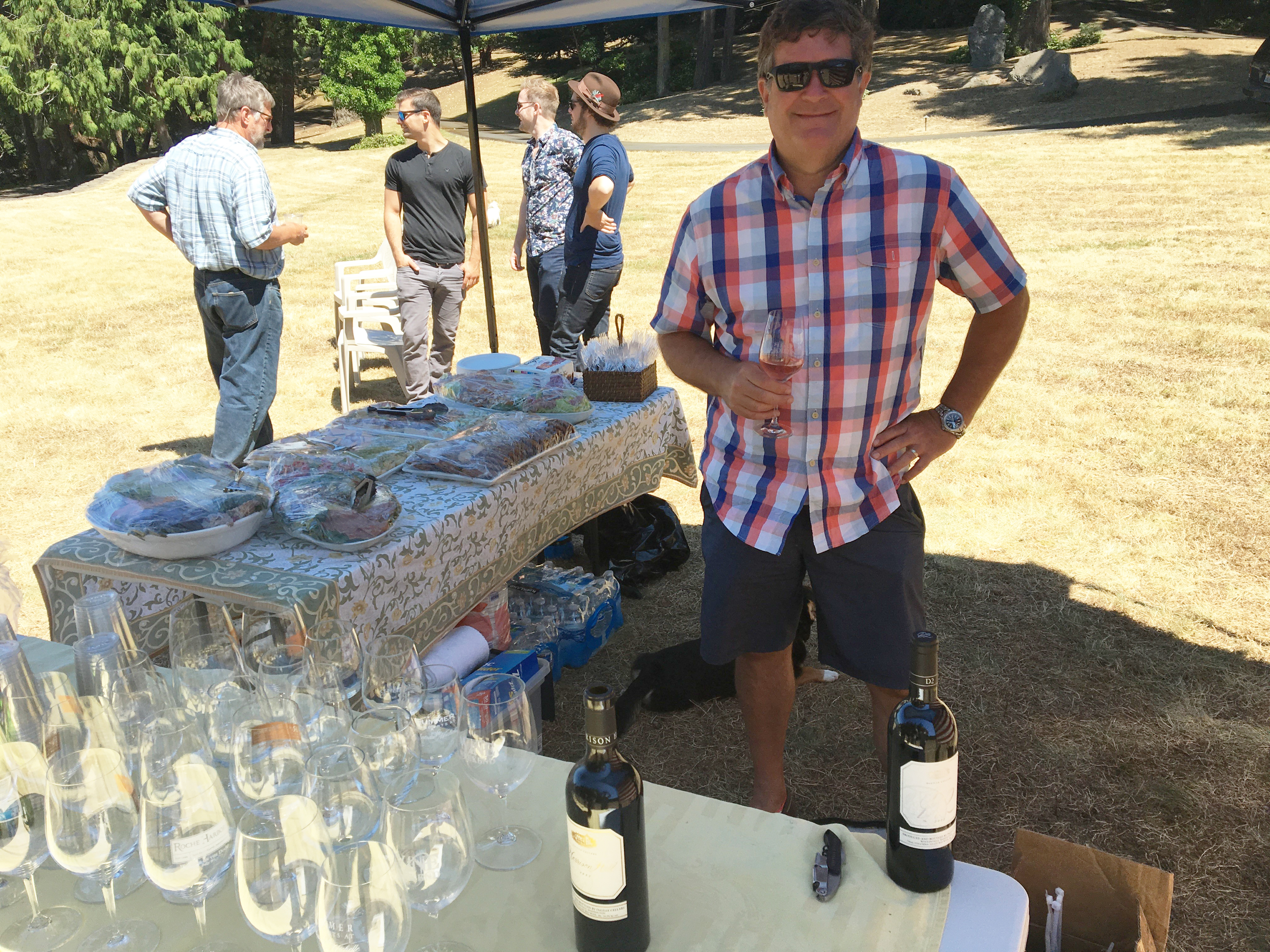 Of course, guests were treated to a guided tour of the estate including transportation to and from the waterfront to the hillside manse that spans 11,686-square feet of interior living space designed for entertaining while preserving Miller's pursuit of privacy. The brief journey enabled guests to experience the arrival through the front gate and down a shaded, tree lined drive to the expansive estate. A clearing at the top of the hill revealed exposed rockeries, blossoming gardens and a Northwest Contemporary residence featuring wraparound terraces and outdoor entertaining spaces that flow seamlessly into the home.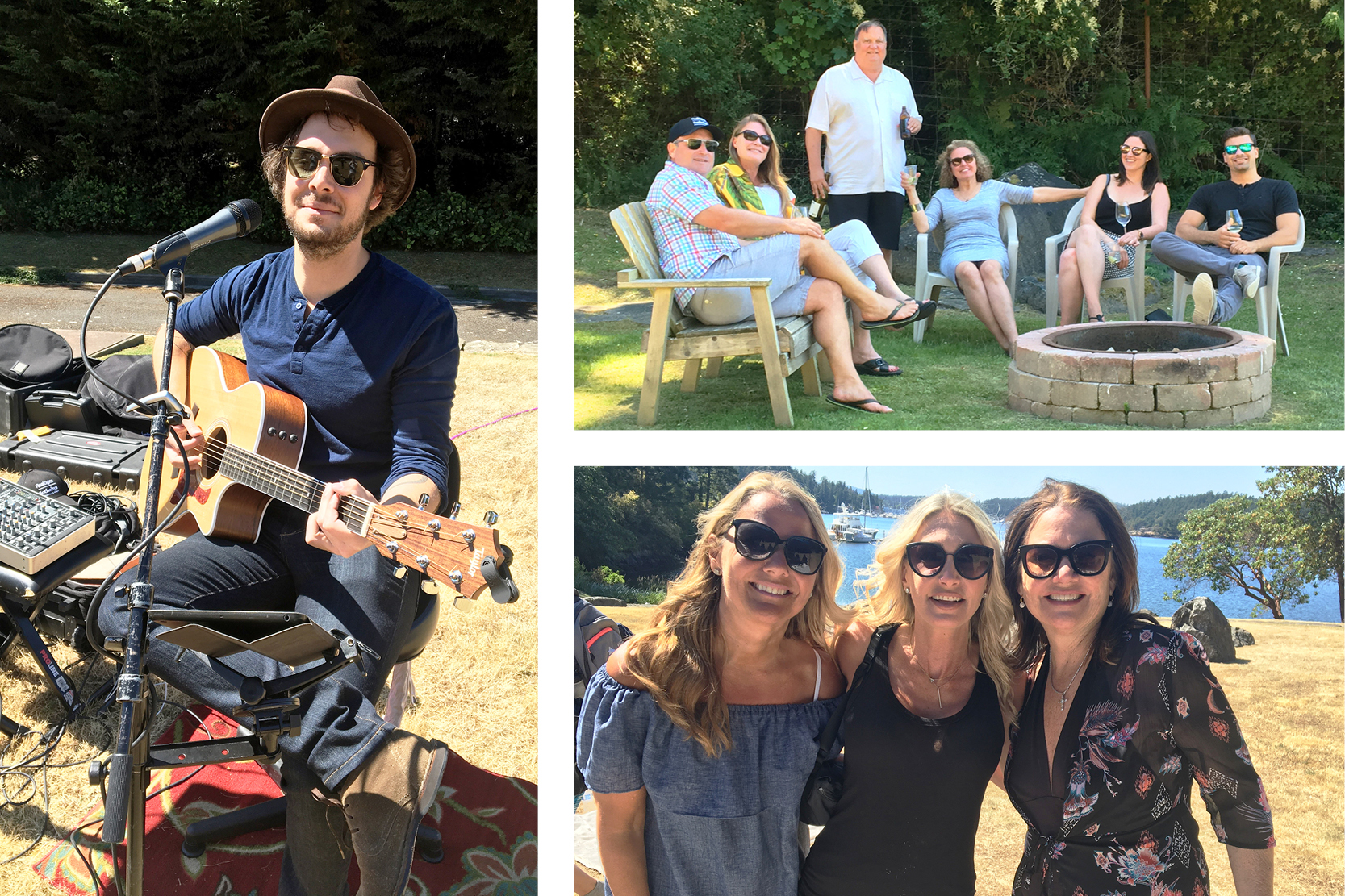 The event began with Robbie Christmas playing live music in the meadow as guests got a taste of the lifestyle offering at Friday Harbor Estate.
After entertaining attendees at the shoreline, Robbie Christmas performed a cover of Steve Miller Band's "The Joker," befitting the event location. The performance was a viral sensation, garnering attention on RSIR's social media platforms.
The event was promoted through local real estate brokerages, and dockside during events held at nearby Roche Harbor. The promotion also caught the eye of Patti Payne, a columnist with Puget Sound Business Journal. Even King 5 TV News sent up their Sky King helicopter to do a flyover of the estate.
A number of Seattle-area brokers arrived by air or took advantage of the convenient seaplane service to and from South Lake Union by Kenmore Air. Likewise, several RSIR team members decided to take their own yachts to the rendezvous.
"Our family visits San Juan Island every summer – it's a highlight for the year, for sure," said Dean Jones, President & CEO of RSIR. "I could easily imagine living here and it's easy to see why so many are doing just that, especially from California."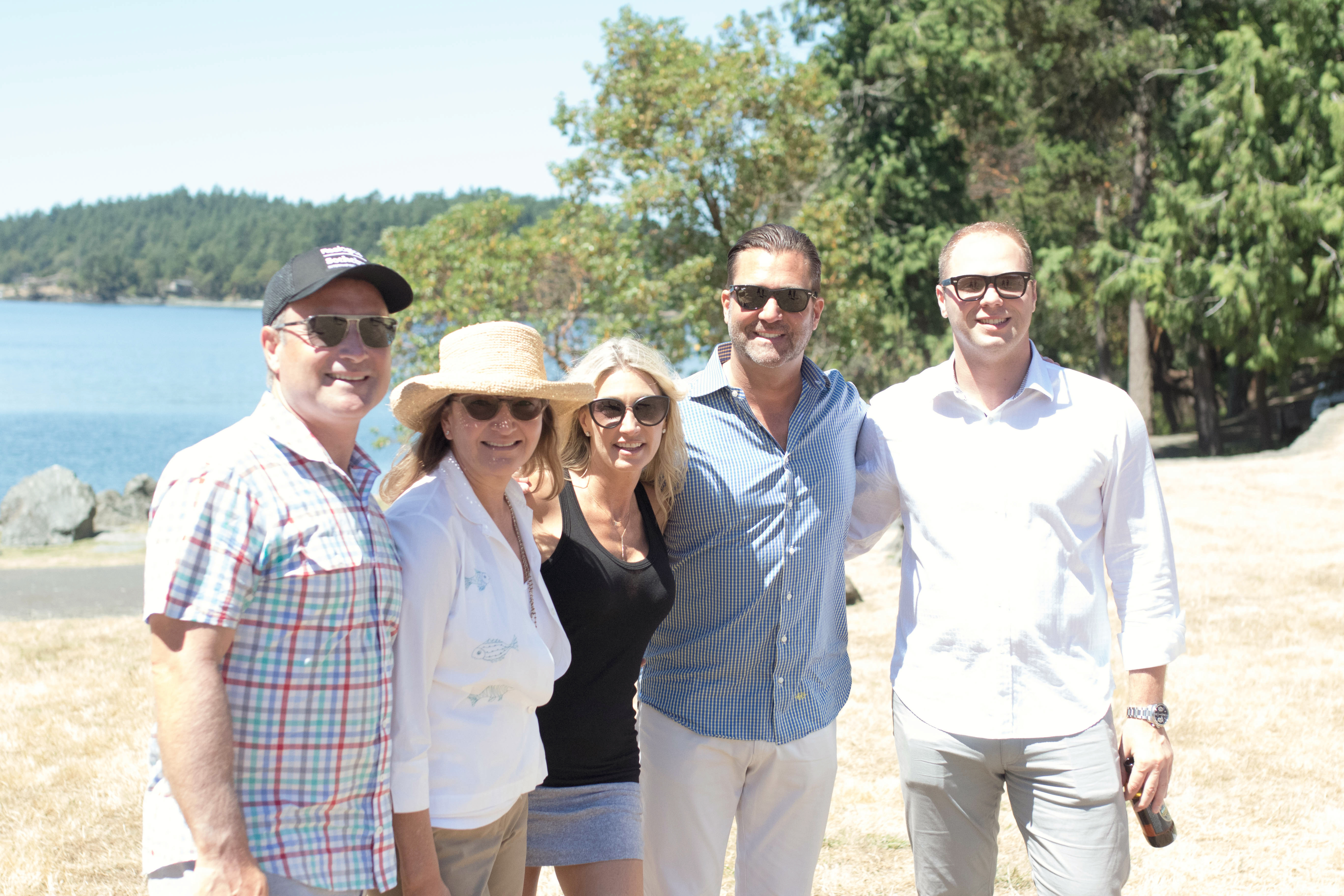 From Left: RSIR Members Dean Jones, Moira Holley, Stacy Jones, Scott Wasner & Anton Krivenyshev soaked up the sun as they arrived at the rendezvous.
Jones notes that a similar estate virtually anywhere in California would be at much higher prices and he suggests the San Juan Islands are being discovered by a global audience, drawn in by the waterways, temperate climate and noted lack of a state income tax. He know that for some passive income earners in California, the single year tax savings alone for transplants could pay for a luxury yacht as they keep their prior home as a second property and abode during the winter months.
Norris reports an unexpected uptick in prospective buyer interest with recent showings following the event and recent media exposure.
"This remains an exceptional value considering the property can be acquired below replacement costs," adds Norris. "It's not just the cost of materials or the rarity of the land that's of value here – it's the time it takes to develop on the islands. Friday Harbor Estate is move-in ready and professionally maintained – a new owner could be enjoying this beautiful property this August."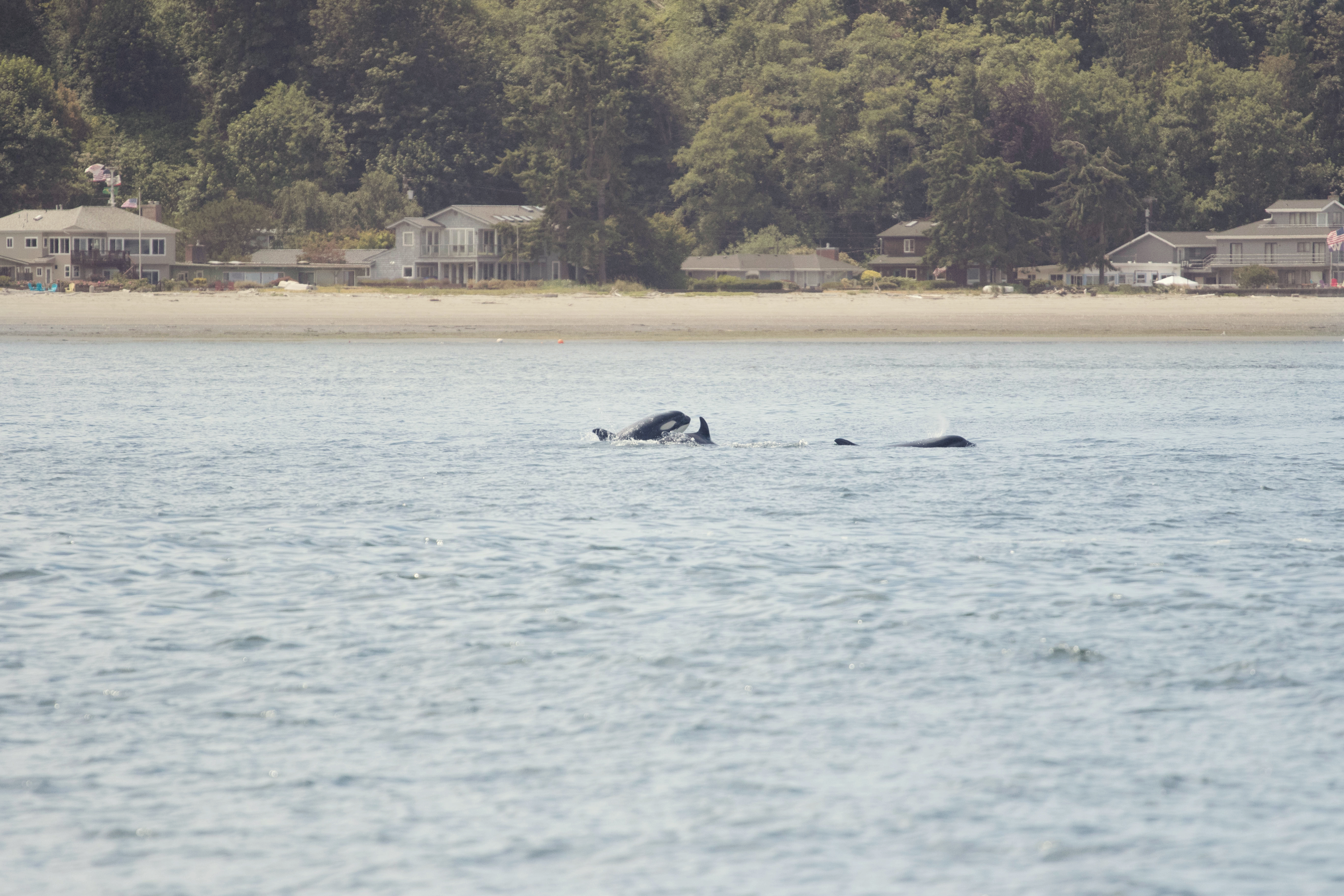 True to the San Juan Islands lifestyle, guests spotted a pod of Orcas passing by.
A sale wouldn't surprise Norris or The Wall Street Journal, for that matter. The global media publisher recently called out the San Juan Islands as a top luxury housing market in the US. As reported Nancy Keates writes, the growth in the area "has been fueled in recent years by an influx of high-tech companies to Seattle, where soaring home prices make the San Juans look like a bargain," and for its allure as an idyllic retreat.
This particular estate was also recognized by Ocean Home Magazine among the Top 20 Coastal Properties in 2016.
Missed the Rendezvous?   Check out Friday Harbor Estate here.