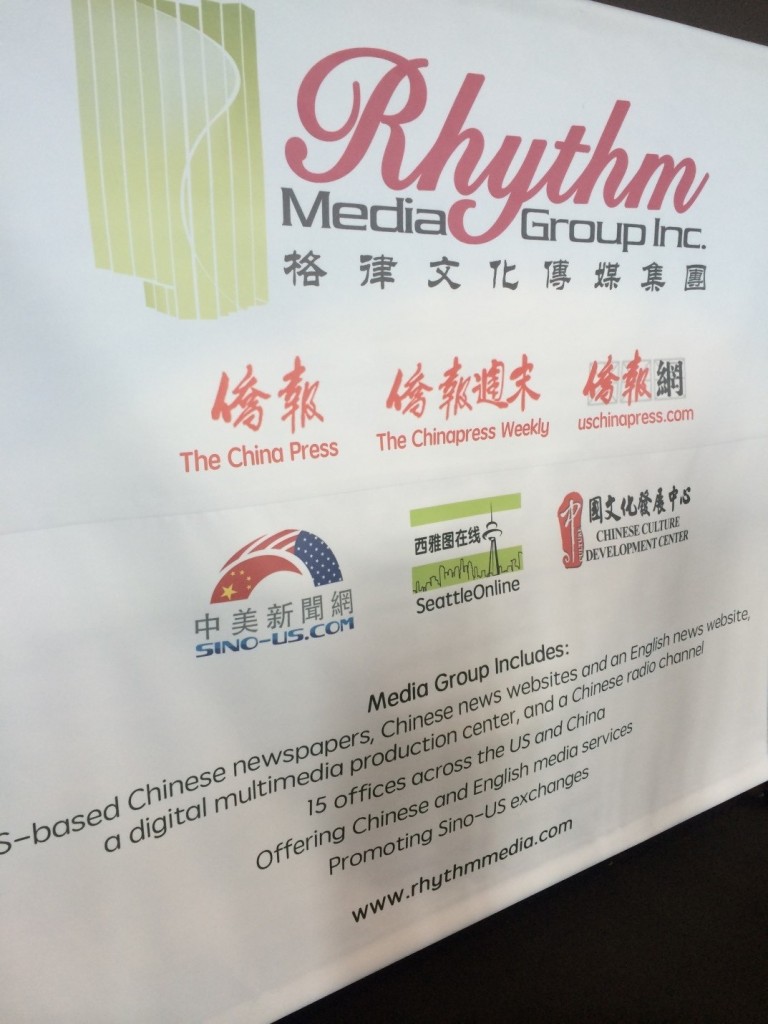 In yet another demonstration of the Seattle area's relevance as an emerging international gateway city, Rhythm Media Group, a multi-media company has launched a new radio station in Seattle at AM1540 targeting a rise in the Chinese audience.   Timed with the 6th anniversary of The Chinese Press, the celebration was held on January 31, 2014 at the World Trade Center in downtown Seattle.
The group President Xie Yining suggested that the Seattle station will benefit from editorial teams already in Los Angeles, San Francisco, Washington DC and Houston, which connect directly to offices in Beijing and Taiwan overseas for programming in the US.  AM1540 has offices in both Seattle and Bellevue.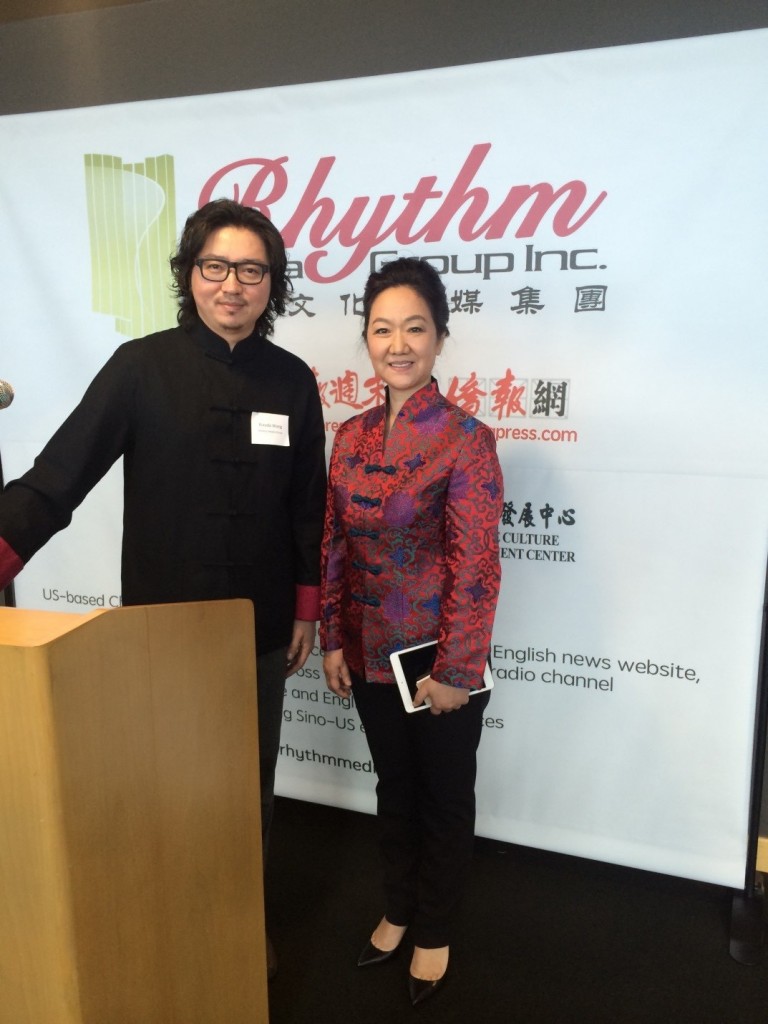 PICTURED ABOVE: Jack Wang, Producer & Marketing Director alongside group President Xie Yining.
Dean Jones, President & CEO of Realogics Sotheby's International Realty was invited to attend the press conference and networked with many familiar persons within the expanding Chinese community in the Puget Sound region.
PICTURED ABOVE: Nancy Yang, Producer of Nan Hai Biz Tech Forum alongside Dean Jones, President & CEO of Realogics Sotheby's International Realty.
During the reception Jones met again with Linda Deng of China Daily USA, who recently wrote an article about the increasing demand for Chinese nationals. Deng also covered the arrival of Rhythm Media group to the burgeoning Chinese community:
From Deng's article in China Daily USA:
"In a good luck letter to the group, Washington Governor Jay Inslee wrote: "The organization provides a vital link between Washington State and China by utilizing print, radio, and online media sources. I thank you for your ongoing commitment to serving the international community in the Greater Seattle Area and promoting cultural and economic exchange between Washington State and China."
Ren Hongyu, general manager of Rhythm Media Group, told China Daily why the radio station opened offices in both Seattle and Bellevue. "In the past seven years, we witnessed the fast development and great changes in the Greater Seattle area, especially a large number of high-tech companies settled in Seattle, a large number of Chinese emigrated to Seattle to work, study, do business, and live here. We came to realize a weekly fare failed to meet the informational needs of our readers."
PICTURED ABOVE: Conrad Lee, former Mayor of Bellevue promotes the importance of the Chinese community within the local economy and welcomes Rhythm Media Group to the region.
PICTURED BELOW: Scored of invited guests attended the media event held at the Seattle International Trade Center on January 31st, 2015.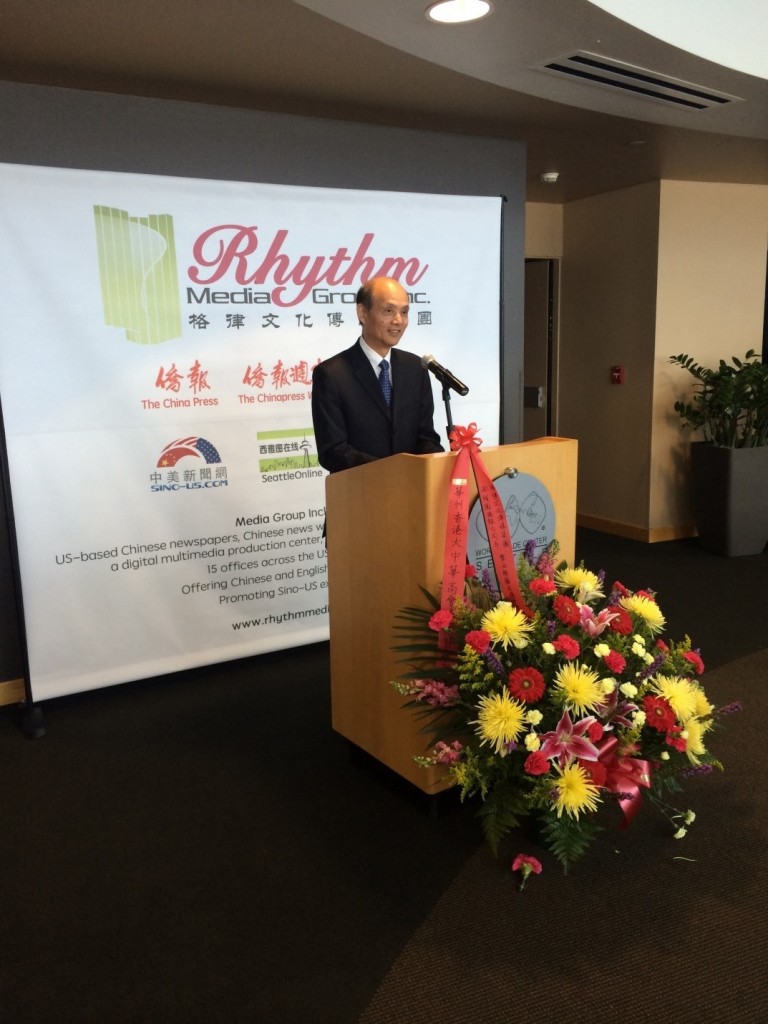 PICTURED ABOVE: Among the many speeches of Lou Linquan, the Chinese Consul General to San Francisco drew parallels between his gateway city and Seattle's arrival on a world stage.
Rhythm Media Group is a multi-media company, operating a US-based Chinese daily newspaper, The China Press, and the paper's website – uschinapress.com (which has mobile-app version), as well as a Beijing-based English website Sino-US.com. The group boasts 15 branch offices across the US, and a number of cultural centers focusing on culture-related business in the North America, Chinese mainland, Hong Kong and Taiwan.
Launched in September 2012, the Sino-US.com is designed to serve as a bridge between China and the US, and to keep its readership inside or outside China better informed by providing news and insights on China's current affairs, culture, life, business, people and sports.