By invitation of the Washington State China Relations Council and moderator Olive Goh of CITI Private Bank, Realogics Sotheby's International Realty ("RSIR") team members recently attended an investment summit drawing more than three dozen mainland Chinese business persons from Shunde, Guangdong Province to the law offices of Dorsey & Whitney in Columbia Tower.   The event on Wednesday, March 11 – entitled "Red Hot – Greater Seattle Real Estate Market and Inbound Chinese Investment" was kicked off by Lt. Governor Brad Owen and included an address by former US Ambassador to China Gary Locke as well as leaders within the local residential, commercial and development market.
PICTURED ABOVE & BELOW:  Dean Jones presents to a delegation of Chinese business interests and investors as part of a panel of residential real estate experts.
"We were honored to present our views on the emergence of foreign direct investment in the region," said Dean Jones, President & CEO of RSIR.  "There's no doubt that the Seattle/Bellevue metro area is playing catch up to other established West Coast markets but that's why the opportunity is so compelling – we offer relative affordability and a higher propensity for capital appreciation."
Following several individual presentations Jones outlined observations from the Wealth X and Sotheby's International Realty Global Luxury Residential Real Estate Report 2015, which identified Asia as a major generator in ultra-high net worth individuals (net worth of more than $30 million).  Among the many findings the report suggested more than $16 trillion dollars in global wealth will transfer to the next generation over the next thirty years and North America is likely the top beneficiary in terms of impact with residential real estate.
PICTURED ABOVE:  Jones presented key findings from the Wealth X and Sotheby's International Realty report illustrating the trends for global wealth and the preference of US real estate – recent surveys show Seattle as being the #6 choice for affluent Chinese investors in part given the region's relative affordability and propensity for capital appreciation.
Jones compelled the audience to consider the long term impact when Spanish, English and Dutch nationals descended upon "New England" during the colonial age and specifically the massive European emigration that later occurred between 1700 and 1900.  He said those families sought their version of the American Dream – choosing to relocate and invest in the "new country".  Likewise he points to the more recent and similar trends out of Asia.  Like Europeans centuries ago he notes Chinese families seek financial safe harbor, education and investment opportunities in alternate Pacific Rim markets today that include Western Canada, Western United States, Australia, New Zealand and other Southeast Asia regions.
"Everyone knows that New York City is the most desirable global city in the world today but what are the next markets to rise?"  Jones questioned.  "In many ways I view the Seattle/Bellevue metro area as the New York City of the West Coast and perhaps we are witness to a modern day representation of what occurred on the Eastern seaboard centuries ago."
To illustrate his point about potential growth Jones outlined New York City on Manhattan Island is approximately 10 miles by 2 miles and home to more than 1.6 million residents.  Similar in scale, the urban regions of Seattle and Bellevue are also comprised of a 10 mile by 2 mile region and interestingly there are similar attributes with the "Upper Eastside" being Bellevue, our "Central Park" being Lake Washington and our "Downtown" being the financial center of downtown Seattle.
PICTURED ABOVE AND BELOW:  Drawing comparison about the next global market on the rise, Jones illustrated how the metro areas of downtown Bellevue and Seattle are similar in geographic size to Manhattan and said the influx of Asian investment and immigration is consistent with why the New England cities developed in part from European emigration centuries ago.
In addition to the residential presentations, several commercial experts outlined the trends for office demand and opportunities for developing with EB-5 investors, which offers foreign nationals an opportunity for US citizenship in exchange for qualifying investments.  Kevin Corbett, a Director with PLUS Investment also demonstrated that not all investors are seeking a Green Card but rather the yields that are possible and highlighted that the Seattle/Bellevue metro area is very much on the map with Chinese developers and equity funds.  He explained that his own firm, PLUS Investment had recently closed on a land assembly in downtown Bellevue and seeks to build a world-class, mixed-use community with retail, residential and commercial office space.  This project dubbed "International Plaza" has received significant media attention in recent months including articles in the Puget Sound Business Journal and The Seattle Times.
PICTURED ABOVE:  Kevin Corbett of PLUS Investment presented on commercial real estate trends and spoke in both English and fluent Mandarin.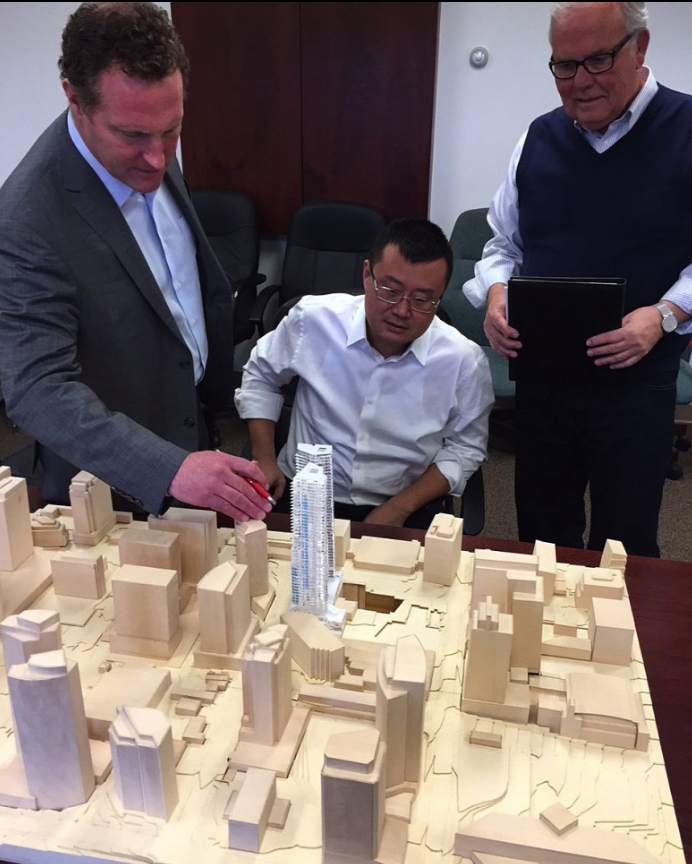 PICTURED ABOVE:  Representatives of PLUS Investment overlook the redevelopment opportunities on a half city block of downtown Bellevue – an example of private capital from China arriving in the Seattle/Bellevue metro area.
PICTURED ABOVE:  Kristi Heim, Executive Director of the Washington State China Relations Council observes the successful event that her organization produced.
RSIR was proud to sponsor the event and staffed a well-appointed exhibit in the lobby of the law firm handing out copies of the Collection Magazine as well as helpful information packages including the Investment Capital of the Pacific Northwest, which is available in both English and Mandarin.
PICTURED ABOVE AND BELOW: RSIR distributed dozens of copies of both The Collection Magazine and helpful market information offered in both English and Mandarin to the visiting delegation from China.
PICTURED ABOVE:  (Left to Right) Kevin Corbett of PLUS Investment; Dean and Stacy Jones or RSIR; Olive Goh of CITI Private Bank and Gary Locke, former Governor of Washington and previous US Ambassador to China.
PICTURED ABOVE:  Representatives from the delegation were recording the presentations and providing real time translation between English and Mandarin discussion.
PICTURED ABOVE:  RSIR broker Andy Yip was one of several other RSIR brokers in attendance including Lili Shang and Aaron Gazes. 
PICTURED ABOVE:  Several media outlets were in attendance including The US China Press, which resulted in additional news articles.