On February 20th, local and international brokers joined event hosts for a celebration of the Lunar New Year at the NEXUS Sales Center with a debut of the newly released penthouses and a dynamic presentation on the state of the market and international influences. Presented by Burrard Group, LUXE Magazine and AXIA Home Loans, guests were treated to a red carpet arrival with Butler Valet, a spread of Chinese cuisine by Din Tai Fung along with libations and entertainment including a dramatic Lion Dance. Also in attendance were members of the Asian Real Estate Association of America, including Seattle Chapter President, Vincent Ha who noted that Seattle is the host city for the 2018 Global and Luxury Summit April 7-9th.
"There are many signals that Seattle is increasingly on the map for intenational consumers and NEXUS is most certainly a keen address," said Michael Cannon, Sales Director for NEXUS and a broker with Realogics Sotheby's International Realty. "We've enjoyed several sales during the Lunar New Year already and note a lot of excitement over the recent release of our Penthouses."
Cannon recently listed a collection of two and three bedroom homes ranging from 1,395-sq. ft. to 1,880- sq. ft. including two-story Sky Lofts that are being offered for presale from $2.1 million to $3.5 million.  In addition to voluminous interiors and expansive views, the Penthouses include exclusive-to-project kitchens with marble countertops, top-of-the-line Miele appliances and the opportunity for home personalization including the choice of three inspired color schemes.
Above & Below: The recently launched Penthouses at NEXUS were a centerpiece of the Lunar New Year event (illustrations depict the two-story Sky Loft).
Among the many highlights of the event, Feng Shui Master Yongheng Lu presented the principles of the popular Chinese belief that closely associates energy with design and real estate. RSIR broker Lili Shang, a Founding Member of the firm's Asia Services Group and a top-producing agent of sales at NEXUS translated during the presentation and added her own insights for the audience.
"The Master confirms NEXUS is a very powerful building given it's design and promience in the skyline, and there are several positive Feng Shui elements given the varying elevations and exposure to both Lake Union to the north and Mt Rainier to the south," said Shang. "Burrard Group was very savvy to consult a Feng Shui expert in their design and also to receive the blessings from the Lion Dance tonight. These are very auspicious attributes for Chinese – my clients have been very excited about this development."
Shang also noted the recent announcement by the BC government to increase the foreign buyer tax in Vancouver, BC – a historically popular international gateway city with Chinese buyers – from 15-percent to 20-percent, in addition to other taxes. She believes its just one of the many reasons that Chinese buyers have notably increased interest in Seattle and in new high-rise developments like NEXUS.
Her theory appears to be validated by recent sales as well as research provided by Juwai.com – China's leading home search site. A presentation of homebuyer trends was offered during the evening indicating that Seattle is, in fact, the No. 3 most popular market for Chinese in 2017 but considering the market size, it is actually most significant.
"Seattle punches above its weight in terms of Chinese buyer demand," said Carrie Law, CEO of Juwai.com. "The city attracts more Chinese buyers than you would expect for its size. A typical seller in Seattle is twice as likely to have Chinese buyer interest than one in greater LA or New York. Seattle attracts similar Chinese demand levels as those larger cities but is less than half their size."
Above & Below: Guests enjoyed valet parking, Chinese food and a Lion Dance.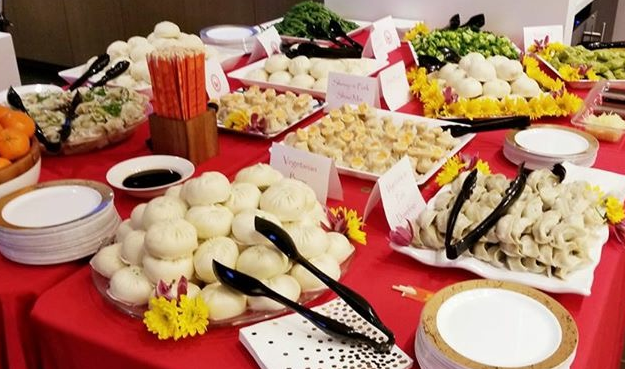 Above & Below: Several presentations highlighted the significance of international buyers in the Seattle area and acknowledged efforts by developers to consider sensitivities, such as Feng Shui, when designing for global consumers.

Above & Below: Dean Jones (top left) offers a gift to the lion dancer and Debby Steiner, Publisher of LUXE Magazine (top right) admires the iconic architecture of NEXUS. RSIR broker Dehlan Gwo (bottom left) converses with guests.
Above (from left): RSIR broker Lili Shang; RSIR CEO Dean Jones; Feng Shui Master Yongheng Lu; David Leong of the Lion Dance Team; and Vincent HA, Mortgage Lender with AXIA Home Loans & Seattle Chapter President of AREAA.