Written by William Hillis, Research Editor & Publisher, RSIR
The four leading real estate markets on the West Coast have seen gradually slower year-over-year home price growth, according to the S&P CoreLogic Case-Shiller Home Price Index. In this race to the zero-bound, Seattle has been steadily trailing San Diego, San Francisco, and Los Angeles.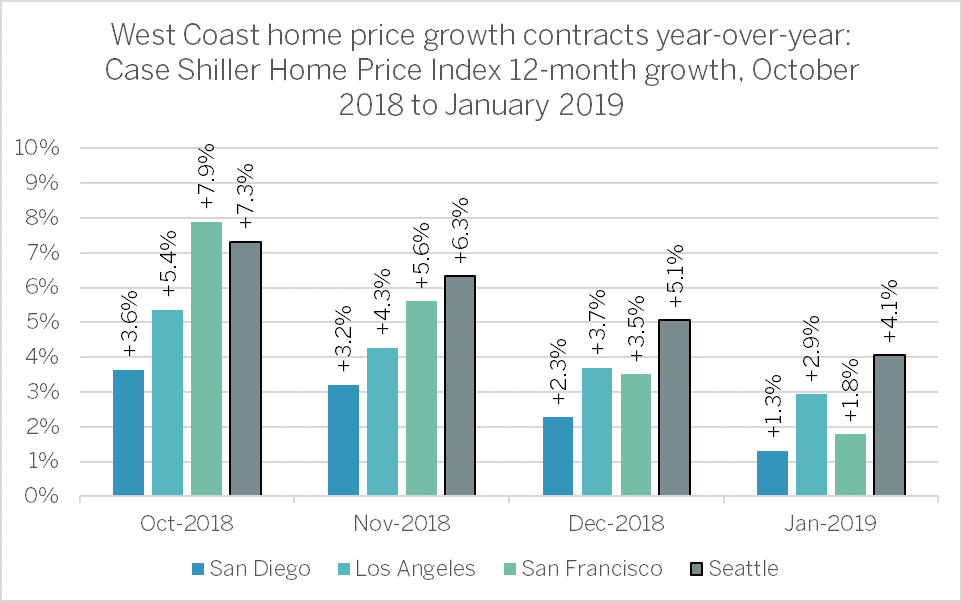 The Case-Shiller data illuminates our continuing story that prices throughout the Puget Sound region have remained generally higher year over year, contrary to erroneous local reports that prices fell throughout the second half of 2018. Yet the direction for 2019 appears set for lower price gains and possible declines in some areas. RSIR's forecasts for 36 areas, cities, and towns in the region are available in our 2018/2019 Market Report, recently published and available from your local RSIR broker.
A Nationwide Slowdown
According to Case-Shiller, the rate of increase of residential prices in the Seattle metropolitan statistical area ("Seattle MSA") slowed for a seventh consecutive month in January 2019. In the S&P/Dow Jones press release accompanying the report, David M. Blitzer, managing director and chairman of the Index Committee noted,
"Home price gains continue to shrink. In the year to January, the S&P CoreLogic Case-Shiller National Index rose 4.3 percent, two percentage points slower than its pace in January 2018. The last time it advanced this slowly was April 2015. In 16 of the 20 cities tracked, price gains were smaller in January 2019 than in January 2018. … Some cities where prices surged in the 2017-2018 now face much smaller increases: in Seattle, annual price gains dropped from 12.8 percent to 4.1 percent from January 2018 to January 2019. San Francisco saw annual price increases shrink from 10.2 percent to 1.8 percent over the same time period."
From December to January, the non-adjusted index results dropped for 14 of the 20 cities. But even on a seasonally-adjusted basis, residential home price trends were negative in all Pacific Coast gateways except Seattle—which remained 0.3 percent higher, exceeding the 20-city composite and nationwide Case-Shiller results. Los Angeles, San Diego, and San Francisco were respectively 0.1 percent, 0.3 percent, and 0.6 percent lower. (Portland's seasonally-adjusted index was up by 0.2 percent.)
While this trend may continue for months more, RSIR expects home prices in some areas of Seattle and the Puget Sound to prove especially resilient. The chart below shows a few of the areas in which we forecast residential price increases in 2019.
For more details on the January 2019 Case-Shiller Index results, download the S&P Dow Jones Case-Shiller summary report. For a copy of our 2018/2019 Market Report—along with details on the implications for homes in your neighborhood—contact a local RSIR broker.