Now halfway into its second year, Seattle's nationwide lead on the S&P CoreLogic Case-Shiller Home Price Index is once again widening on a monthly basis. Gains that seemed to be slipping away last summer have rebounded, with February's monthly increase exceeding that of January by 1.74 percent to 0.72 percent, for a 12-month average gain of one percent per month.
At 12.74 percent, Seattle's year-over-year increase is holding steady above the 12.7 percent seen last fall. The Puget Sound's nearest competitor on the Index is currently San Francisco, with a 10.1 percent year-over-year gain.
The official Case Shiller report from S&P Dow-Jones noted that Seattle's home price growth is distinguished by its economic support in the regional employment market. Price growth trends in the competing Pacific Coast gateway cities of San Francisco and Los Angeles are increasingly disconnected from their local job scenes. "Seattle enjoyed both the largest gain in employment and in home prices over the 12 months ended in February 2018," while "in San Francisco and Los Angeles, home price gains ranked much higher than would be expected from their employment increases, indicating that California home prices continue to rise faster than might be expected."
A persistent shortage of homes for sale relative to demand has driven cumulative days on market in the city of Seattle down to seven or eight days—Ballard and Green Lake have seen five straight quarters of weeklong market times. Meanwhile, 2018 Q1 residential home sales show prices up by varying degrees in several key markets within the city (see the following chart).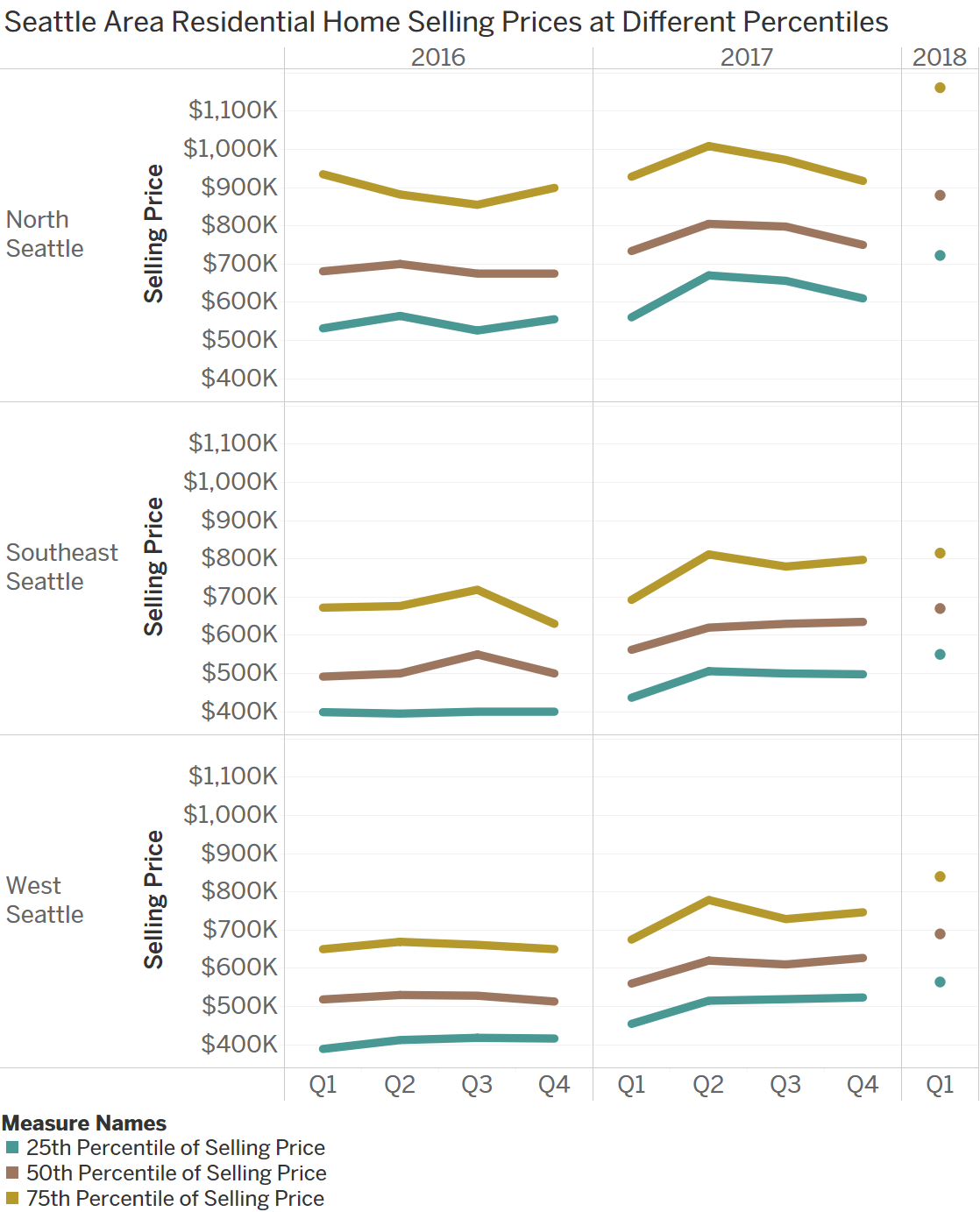 For Seattle's comparative performance on the Case-Shiller Index, see the chart below; and for more details, download the S&P Dow Jones Case-Shiller summary report. And for details on the implications for homes in your neighborhood, contact a local RSIR broker for their latest analysis.