You've imagined yourself gazing down from a second-floor latticed oriel to your Romeo serenading you from below. Or perhaps yours is an ideal of daily life in an Elizabethan cottage. In either case, a half-timbered house offers the style and quality you're seeking.
Half-timbers in construction originated in Northwestern Europe in the Middle Ages. At that point in Western history, Europe's forests had already been depleted, and wooden timbers were very expensive. The method used was to construct a basic frame of the house, then fill it with lath (small sticks) and lime plaster. Later, the walls were filled in with brick and plaster "nogging" (brick filling in panels between timber quarters in a wall). Builders patterned the timber frames to create the effect enjoyed for centuries.
Today, the half-timbered effect is produced with modern materials, and serves only aesthetic purposes. The home's structure is supported by the same stick framing that supports many other home designs. Just as with brick-veneered homes, a single layer of veneer is used on the surface while the support is provided by the stick wall framing. Flashing and vapor barriers are used to prevent moisture from building up inside the wall. The half-timbers are added to the brick veneer.
Most often when people see a half-timbered house, Tudor is the style that immediately comes to mind. While not all Tudor homes use half-timbering, and not all half-timbered homes are Tudors, these elements are immediately recognizable to U.S. homebuyers.
The Tudor style that enjoyed popularity in the U.S. from 1890 up until World War II featured steeply pitched roofs, façades with cross-gables, narrow lattice windows, and oversized chimneys. Most have brick wall cladding. The decorative half-timbering discussed here was designed into half of historical Tudor homes.
Seattle experienced one of its most dramatic phases of growth during the era above when the Tudor style was most prevalent, so that many homes in our area evince this architectural flavor. One such home that is available for sale as of the date of this article is offered by Chris Doucet of Realogics Sotheby's International Realty (RSIR). While fully modernized and well-appointed, this home was built in 1934, at the peak of Tudor-style construction in the U.S.: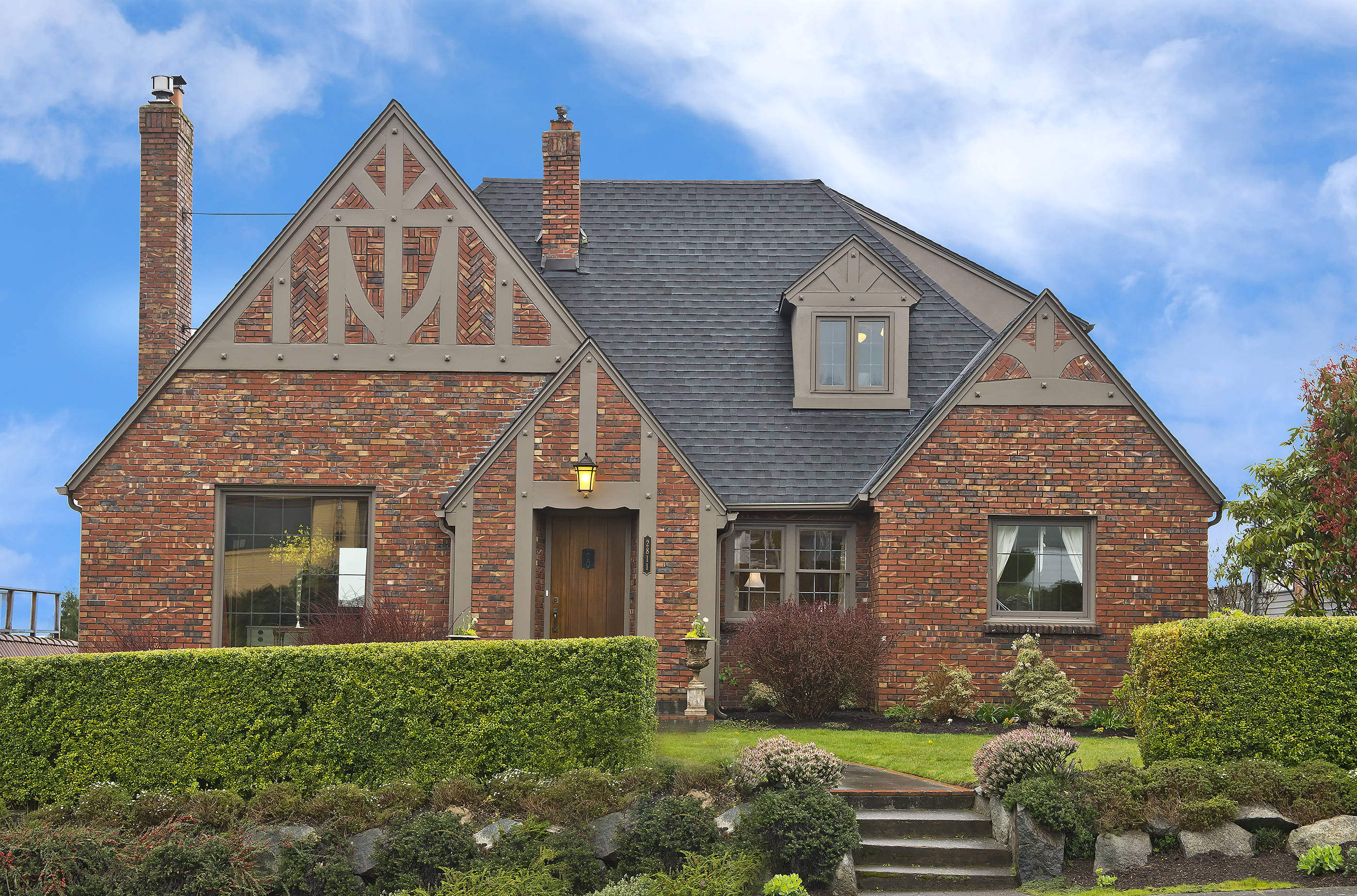 The Manor on Magnolia: Classic Tudor sited perfectly in its bluff neighborhood overlooking Olympic Mountains & Puget Sound. Daylong sunshine and western exposure with forever views from living areas and panoramic master bedroom. Showcase architectural details include arched, leaded glass windows, top nailed hardwood floors with medallion insets, barrel-vaulted ceilings, Batchelder tile fireplace, and cherry eat-in kitchen. Lower level bedroom with bonus room, ample storage, and large fenced yard with patio.
Doucet is well-acquainted with the style. Some years ago sold another Tudor home in the Mount Baker community of Seattle that happened to be owned by RSIR Owner and President Dean Jones and his father, Trevor. This distinctive home was the first commission of Washington State's first female architect, Elizabeth Ayer.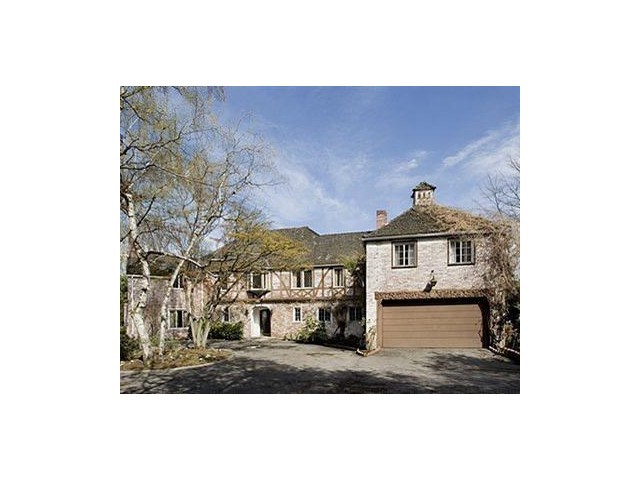 Wonderful historic estate in Mt. Baker designed by Elizabeth Ayer, commanding spectacular views of Lake Washington, Mt. Rainier, and the Cascades. More than one acre of private, fenced grounds with view terraces, pool and gated entry. Timeless elegance abounds in wonderful formals, including living room with fireplace, view windows, and doors leading to a sunny terrace. Wood paneled den/library, formal dining room on main. Beautiful spiral staircase leads to six bedrooms upstairs with master view suite. Finished lower level with family room and wet bar.
Other architectural styles closely resemble the Tudor. Here is a home in Seward Park, recently marketed and sold by RSIR broker Brad Vancour. This palatial mansion also exhibits steep roofs, cross gables, and brick cladding, but with hipped dormers and a remarkable round tower. This is the French Eclectic style:
Landmark Lake Washington Estate with 3.11 acres of landscaped flowing gardens and low bank lake frontage. Stately 12,380 square-foot main house with additional 860 square-foot beach-front guest house directly on the Lake. Includes man-made island and sandy beach area. Large lakefront deck, hot tub, jet ski and boat lifts on the dock. Grandfathered water rights for property irrigation directly from the lake.
This home was built in 1929; the interwar period saw many homes built in both the Tudor and French Eclectic styles. The latter is highly varied, encompassing towered, symmetrical, and asymmetrical footprints. Like the Tudor style, half-timbers may also be used in the French Eclectic style. It also is a European import, but arrived during World War I, as American troops came home fascinated with the farmhouses they had seen in Northern France. The style was further popularized by photographic studies of French houses published in the 1920s.
According to Vancour, at the time it was built, this unique home was the largest house on Lake Washington.
Vancour reports that "many prospective developer buyers who toured the mansion wanted to tear it down and build up to 12 new homes on the 3.11 acres; but fortunately the new owners are buyers who want to restore the mansion to its past glory, including plans to keep the existing slate roof that has been on the house for generations."
Brokers at Realogics Sotheby's International Realty draw on rich knowledge of our community and architectural history. We enable sellers to market homes of distinction, and empower buyers to seek out homes of exceptional quality.