King 5 News, Cobalt Mortgage and Realogics Sotheby's International Real Estate Explore Rent vs. Mortgage in Downtown Seattle Housing
GO FIGURE – the median asking rent of condominiums in downtown Seattle is about the same as a mortgage for the median home price, according to NWMLS statistics compiled by Realogics Sotheby's International Realty and analysis provided by Carese Busby (MLO #619429) of Cobalt Mortgage.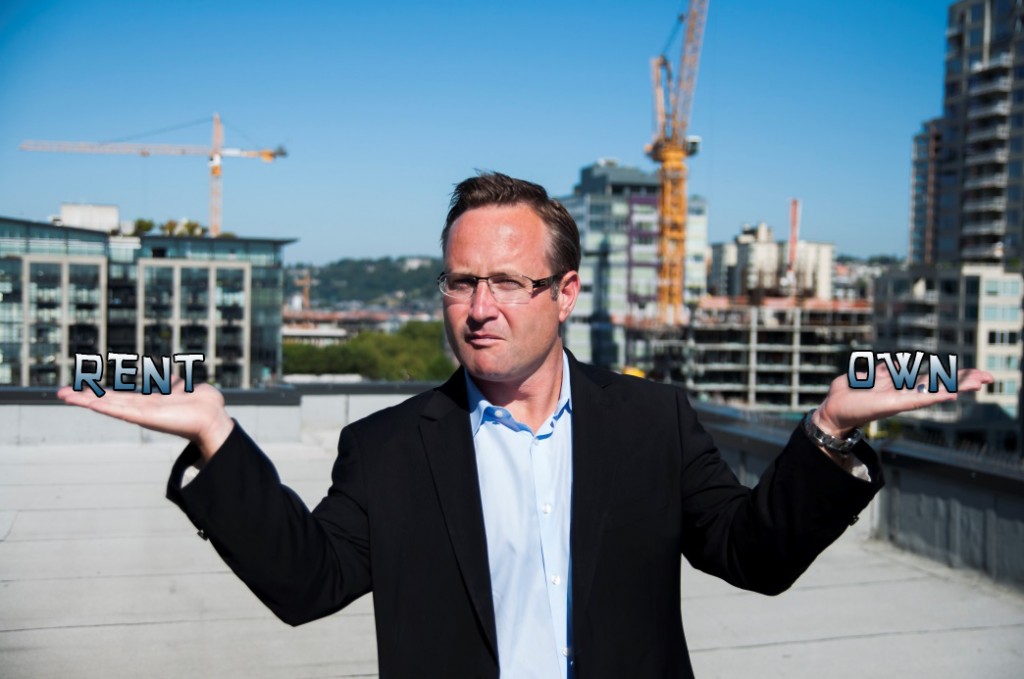 Pictured Above: Dean Jones, Principal of Realogics Sotheby's International Realty balances the cost of owning against the cost of renting similar homes in downtown Seattle.
"I've been monitoring the in-city housing market in Seattle since the mid-1990's and I've never seen such a level playing field between buying or renting," said Dean Jones, Principal of Realogics Sotheby's International Realty. "The combination of corrected real estate values, low interest rates and explosive rent growth has encouraged many consumers to choose ownership over a lease.  I imagine many tenants are looking at that lease renewal and wondering what the market will look like in another twelve months."
The median price of a sold condominium in the third quarter of 2013 in downtown Seattle (NWMLS #701) was $399,950, which represents an increase of 4% over the same quarter in 2012.  With a 5-percent down payment the total monthly ownership cost to own that median home would be $2,811 (comprised of P&I at $1,981/76; estimated property taxes at $316.67; mortgage insurance at$212.11; and HOA dues at $300.00), according to Cobalt Mortgage.  This payment assumes a 45 day rate lock on an owner-occupied condo with 740+ credit score having fully documented income on a 30 year fixed interest rate of  4.75% (APR 5.393%).  This compares favorably to the median asking price of condominiums for rent, which is currently more than $3,000 per month averaging $3.18 per foot per month.
The in-city housing market phenomenon sparked interest with King 5 News reporter Jake Whittenberg, who suggested more tenants are issuing their notice to vacate a leased property in favor of homeownership.  The news report also showcased The Residences at Fairview as being among the first major for-sale developments to secure presales after a five year blackout since there's been effectively no substantial construction of for-sale housing since the credit crunch began in late 2007.
"We're fortunate to be positioned with compelling new product for sale at such a compelling time in the marketplace," said Mike Yukevich, a partner in Trinity Real Estate and the developer of The Residences at Fairview. "We're just as excited as our homebuyers are.  We're eager to deliver these new homes in the first quarter of 2014 – more than a year before some of the other developments in the pipeline."
Timing the market may now have more to do with securing preferred selection and locking in today's low interest rates vs. hoping for further correction in home values. Experts say prices are on the rise across the board – to buy, to rent and to borrow.
"The reality is we've probably moved past the bottom of the market a year ago, which only becomes clear after the fact," mused Busby. "It's taking this additional time for consumers to become more confident in the market as they feel the tides rising.  The threat of losing purchasing power ahead has nudged more than a few of my clients off the fence.  A one-percent change in the interest rate is the same as paying ten-percent more for your home, in terms of a monthly payment."
Busby says homeownership provides many other advantages that should be considered when comparing to renting, especially in a rising rental market:
HEDGE AGAINST INFLATION:

Buying allows consumers to control housing costs through a fixed rate loan and thus not be vulnerable to rising rental market (a fixed rate mortgage doesn't change whereas rents tend to rise over time)
SAVE MONEY ON INCOME TAXES:

Consumers may be able to deduct the amount of interest they pay on their home loan each year up to a total of $1 million of debt, as well as state and local property taxes, and some or all of their private mortgage insurance
BUILDING EQUITY:

Each month on a fixed rate loan, principle is paid and this reduces principal owed, meaning homeowners can own more of their home and owe less to the lender
Instead of paying rent and adding to the landlord's financial portfolio each month, homeowners get a little bit closer to owning their home
If property prices continue to rise, the homeowner could benefit from capital appreciation meaning that the value of their home has increased
SUSTAINABLE LIVING:

Consumers can have control over where they live and for how long they as opposed to rental market that is driven by landlord decisions
Homeowners can choose to personalize their home as they wish without seeking landlord approvals and knowing for the most part this investment is likely to have a return someday
Pride of ownership
Given rising median home prices, Jones recommends an additional strategy for savvy homebuyers, especially if they have a home to sell before moving into their next address.
"Presales have returned so consumers are able to lock in preferred pricing (and in some cases, today's low interest rates) while deferring the sale of their current home until later, which makes perfect sense if the market is rising," adds Jones.  "Now that liquidity has returned to the marketplace, consumers are planning ahead.  I think this includes many professionals relocating for employment in the city and most will lease for a good time but not necessarily a long time.  I sense a growing percentage will opt to buy after a term or two especially if the value proposition to own remains so attractive versus renting."