The main cause of Seattle's urban evolution is, first and foremost, that people want to live here.
By 2050, 70% of the world's population will be urban. With a population of over 650,000 and expecting to grow 120,000 residents and 115,000 jobs by 2035, Seattle exemplifies the powerful current of economic vitality that is transforming many of the nation's largest cities as they connect more deeply to the digital economy and global markets. The city has had a strong economy since the 1980s, with the rise of Microsoft and its campus in what was then suburban Redmond, was a catalyst for both wealth generation and a spike in development on the Eastside. Now Amazon, which has nearly 10 million square feet of office space in downtown Seattle, has made the city the modern embodiment of a company town attracting well-educated millennials from across the globe. Given its campus is decidedly urban, so is the housing demand.
According to Rider Levett Bucknall (RLB), Seattle has earned its spot as the crane capital of America for the third year in a row with no intention of slowing down. RLB's latest count shows Seattle added 20 cranes, and now leads the nation with a total of 65. The count shows 27 cranes working on mixed-use projects, 17 on residential buildings and 11 on commercial towers. Hot spots continue to be South Lake Union, Capitol Hill and downtown.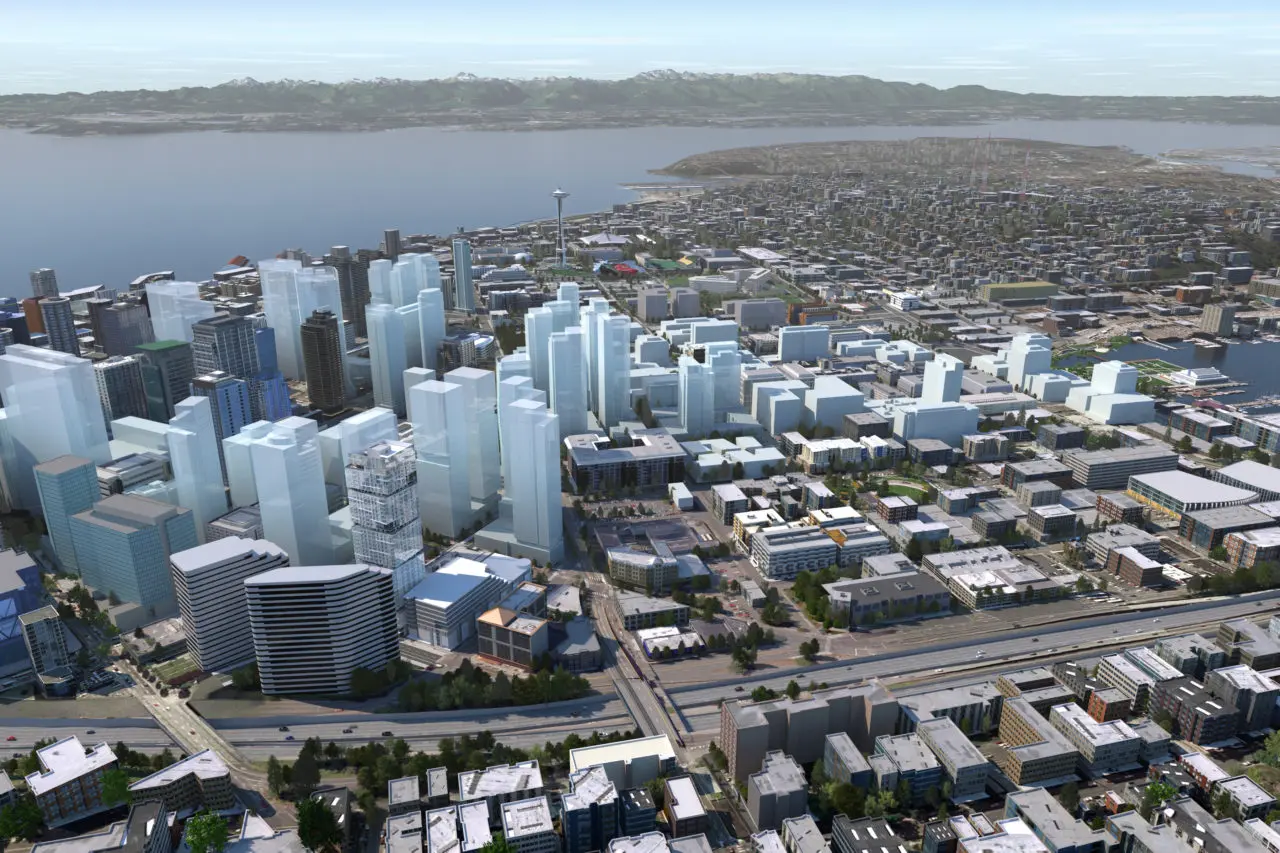 Above: NEXUS, a new 41-story condominium high-rise is the centerpiece of an emerging neighborhood in the ever-expanding Denny Triangle neighborhood.
Known for its vibrant communities and neighborhoods, Seattle's transit system is also gaining steam. Since 2002, bus ridership rates have doubled population growth rates, as the city has expanded its frequent bus network to reach 25% of residents. While Miami and Los Angeles have had trouble growing a viable network, Seattle has become America's leading transit success story. Much of the advances come from a service, King County Metro Transit, that seems unusually competent for a public agency, and in a nation where transit ridership is declining. Private transit also does well here. Ridesharing accounts for 9% of downtown commuter trips, and Seattle has even become the epicenter for America's private bikeshare industry. Following a failed city-run program, several companies have swooped in to provide cheap monthly memberships, most notably Limebike. The reason, of course, that any transit service can function is that a critical mass of money and people has concentrated in Seattle.
RSIR has been on the forefront of these trends for several development cycles and is a playing a significant role in the current evolution of downtown Seattle and downtown Bellevue.
In summary, so long as the overall supply of housing is below what has been the historic norm based on jobs and population all forms of housing will do well in Seattle and urbanization will become a constant.
Header showcases a time-lapse video of Seattle shot over 3 years capturing its massive growth. Source: GeekWire