RSIR Attends Annual Event Hosted by the Downtown Seattle Association
Hundreds of stakeholders attended the Downtown Seattle Association's ("DSA") annual State of Downtown event at the Westin Hotel on February 4th, which included Realogics Sotheby's International Realty's ("RSIR") Dean and Stacy Jones along with Sam Cunningham, Julie Biniasz and Sandy Justen of RSIR's Citrone Partners.
The sold out event offered a glimpse into the renaissance that has taken over the Emerald City turning it into an 18-hour metropolis. Among the notable speakers was City of Seattle Mayor Ed Murray, who stated this was a "pivotal moment in our history" as downtown Seattle tops the lists among the most attractive investment markets in the U.S. and is the fastest growing large city in the nation.
Event highlights included:
More than 10,000 new jobs were created since 2010
With more than 9,300 households per square mile, Downtown is the growing center of density in Seattle
20 new residential buildings added 3,600 units to the Downtown inventory in 2015
In the past six years 72 residential buildings have been delivered totaling 11,416 units
Another two dozen residential projects are either under construction or planned (mostly apartments)
With 245,774 estimated jobs in 2015, Downtown is home to 49 percent of the Seattle workforce
Downtown Seattle has a 3 percent retail vacancy rate, the lowest in 10 years
There are currently 2,663 street-level service business storefronts in Downtown Seattle
More statistics may be found in the Downtown Seattle Association's 2016 Economic Report, below:
The current edition of the Puget Sound Business Journal includes a cover story by Editor Rob Smith, entitled "The City That Almost Never Sleeps" that taps Dean Jones, President and CEO of RSIR, as a market expert who has been living, developing and selling amidst downtown Seattle since the mid-1990's. A pull quote from the article references Jones as saying:
"There are truly world-class projects being invested in downtown Seattle." 
Dean Jones, Realogics Principal & Owner
Jones offers his perspective as an outsider, having grown up in Vancouver, BC and also having spent a few years in San Francisco. He moved to dowtown Seattle in 1994 where he and his father redeveloped brownstone apartment buildings on Capitol Hill and renovated and sold the 200-unit Elektra Condominiums (formerly the Townhouse Apartments). The team later built the Concord Condominiums in Belltown, which were delivered in 2000 and won national honors as Attached Community of the Year by the National Association of Homebuilders.
As the DSA described in their recent Press Release:
At this year's event, themed "Reshaping Urban Places and Spaces," DSA president and CEO Jon Scholes shared the latest data on Downtown's economic health and examined the emerging trends shaping Downtown. The research, which looks at key economic metrics over time, is conducted and analyzed by a dedicated DSA research team.
In his keynote address, Scholes said that Downtown Seattle is experiencing an "urban renaissance," adding more than 30,000 jobs since 2010, boasting 48 active construction projects and seeing residential growth that's outpacing the city and region. One in 10 Seattleites now lives in Downtown. Downtown has also seen a 30 percent increase in spending on the arts, sports, entertainment and food/beverage over a five-year period.
However, with that success comes the need for more intentional planning and strong public-private partnerships, said Scholes.
"Today, we face new challenges and opportunities. The pressures we face today in Downtown are largely driven by our successes," said Scholes. "We can't put this vibrancy on auto pilot. We've created a place in high demand, going through rapid change. We're welcoming new customers, visitors, workers and residents who come with new expectations for great urban experiences, places and spaces.
The annual DSA event also featured author and Stanford University lecturer Tony Seba, who shared his predictions on driverless cars and the impact they'll have on urban areas like Downtown Seattle.
"Exponentially improving technologies such as solar, electric vehicles and autonomous (self-driving) cars will disrupt and sweep away the energy and transportation industries as we know it.
This 'Clean Disruption' will make our cities cleaner, healthier and wealthier," said Seba. "This disruption will provide downtowns with the best opportunity to redesign our urban landscape in a century. Imagine what we can do with a few empty parking spots…we can make them into parks. Downtown Seattle has an estimated 18 million square feet of parking spots; most of them could be freed up. Imagine what Downtown could do with that much space!"
A panel of Seattle-area business leaders, including Liz Dunn, Ben Franz-Knight and Liz Muller, who represented Dunn + Hobbs, the Pike Place Market PDA and Starbucks, respectively, shared highlights of transformative projects they are undertaking and their visions for the future of Downtown.

While the Downtown Seattle Association formally recognizes twelve distinct urban neighborhoods, Jones thinks a new neighborhood may already be in the works – a triangular pocket on the northeast corner of downtown bound by I-5, John Street, Olive Way and 9th Avenue, which he's calling the "East Village."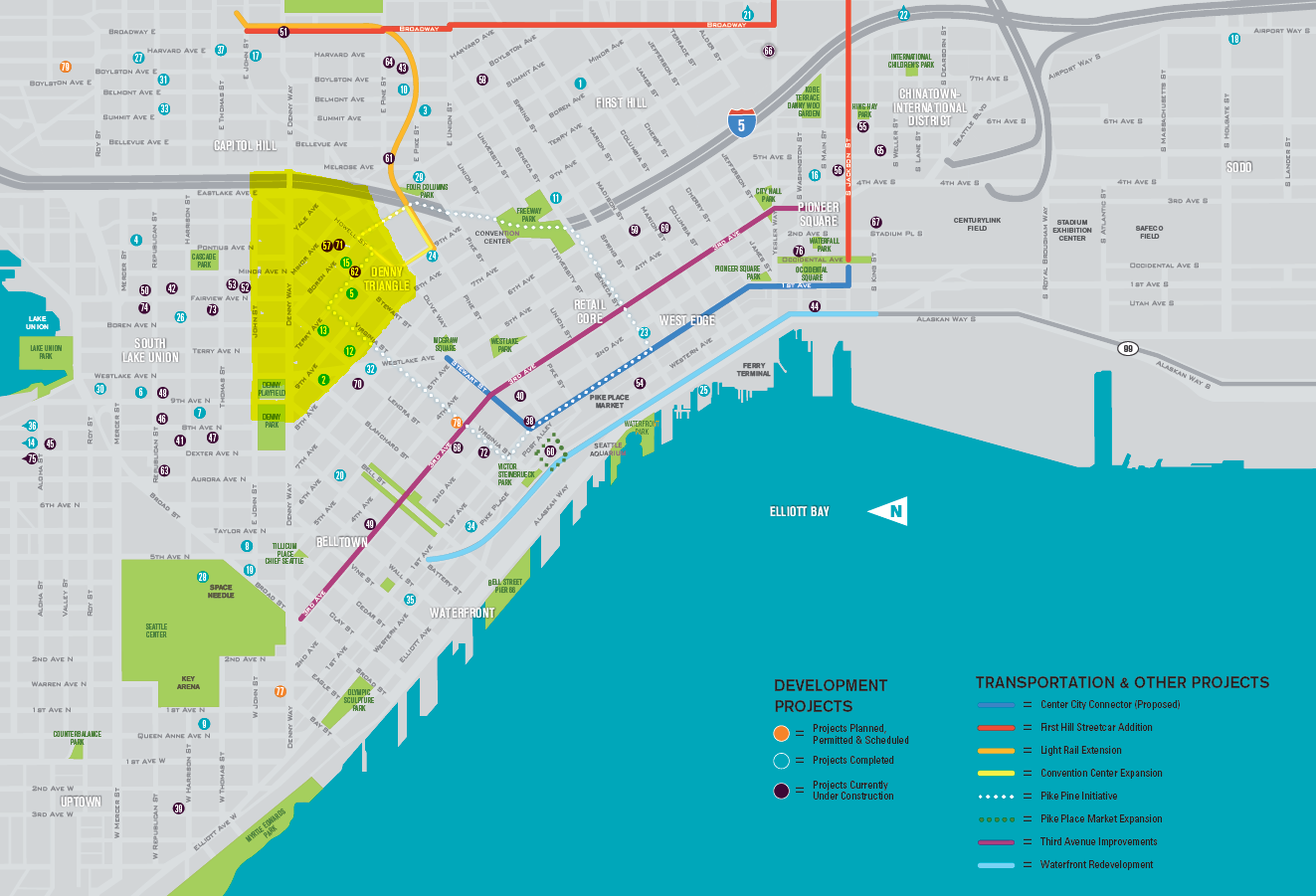 "New communities will be created where we find the convergence of available land, zoning and sustained demand for housing," said Jones. "In the matter of just five years we will be astounded at how quickly these surface parking lots and transitional commercial buildings evolve into a thriving 24-hour metropolis."
Jones recognizes that developers have demonstrated a strong preference for building apartments but he believes that will shift in 2016 with a new cycle of high-rise condominiums. Zillow reports that the Seattle area benefits from a short "breakeven horizon" due to low interest rates, high rents and rising home prices.
RSIR predicted a growing propensity for homeownership in June 2015 when it released a report and special section called "The Manhattanization of Seattle" in the PSBJ. The firm also created a new educational platform at www.NoPlaceLikeOwn.com.