Written by William Hillis, Research Editor & Publisher, RSIR
Despite a still-lower year-over-year increase in the growth of residential selling prices, Seattle turned a corner in February with the end of monthly decreases on the CoreLogic Case-Shiller Home Price Index. Seattle's monthly rate on the index reversed from -0.28 percent in January to +0.57 percent in February. That means that the series of monthly declines in the growth rate that started in July 2018 did not exceed the last similar run of slower price increases—the seven months from August 2011 through February 2012. Regional residential prices that time were resilient afterwards, ending the 2012 calendar year 7.55 percent higher.
David M. Blitzer, Managing Director and Chairman of the Index Committee, noted that "the three California cities of Los Angeles, San Francisco and San Diego have the three slowest price increases over the last year."[1] Comparative 12-month growth is illustrated in the chart below. The seasonally-adjusted monthly rates among Seattle and her peers on the Pacific coast were +0.1 percent here on Puget Sound, -0.1 percent in Los Angeles, +0.5 percent in San Diego, and +0.5 percent in San Francisco.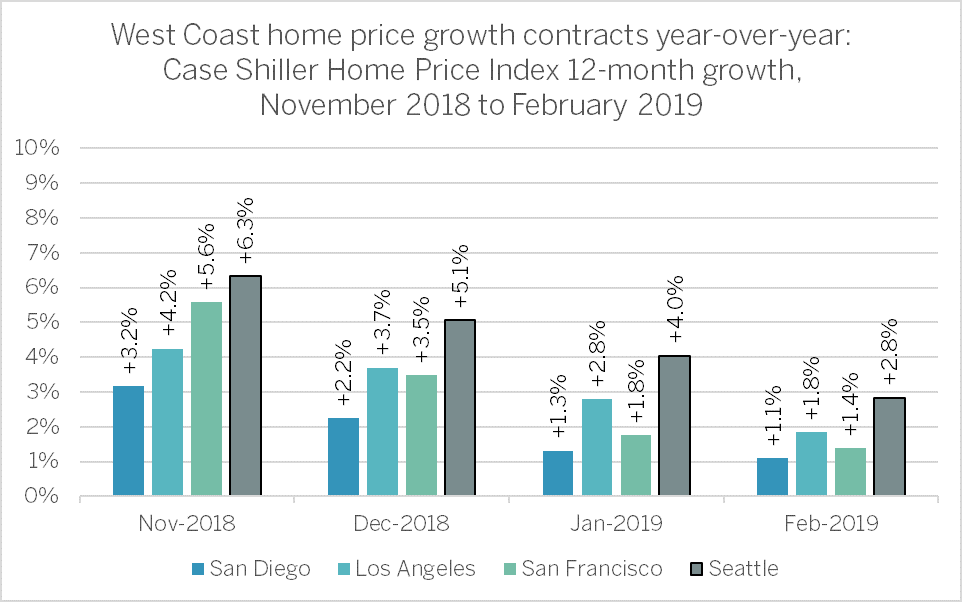 Seattle Times real estate columnist Mike Rosenberg looked past these results to the impacts of prices on buyers. Reportedly, those "looking for higher-end homes in pricier cities like Seattle and Bellevue aren't paying any more than they did a year ago. Meanwhile, those shopping around for something resembling a deal, perhaps in Tacoma or Everett, are still confronted with the same old hot market from years past."[2]
With reasoning first proffered in his February 2019 reporting on the December Case-Shiller results, Rosenberg argued that regional prices vary from one community to the next based on the low, middle, and high price tiers that CoreLogic Case-Shiller uses internally in its own proprietary algorithm for computing index results.[3] He interpreted these tiers, with price bounds of respectively $385,000 and $600,000 in February, as indicating that residential prices in remote communities are rising while those in more affluent neighborhoods are not.
As Rosenberg writes,
Look at the cheapest group of homes, typically found in the outlying parts of the metro area, and it's like traveling to an entirely different area: These saw prices grow about 8% from a year prior, including a jump of 1.5% just in the last month … Homes in the middle-price bracket, which you might find in Lynnwood or Renton, saw prices grow 3.5%, slightly below the national average.
That dynamic may seem apt in a comparison among communities and within less-premium areas. Yet internally within markets, as you can see in the following charts, we find the opposite prevails in leading areas for luxury home sales.[4]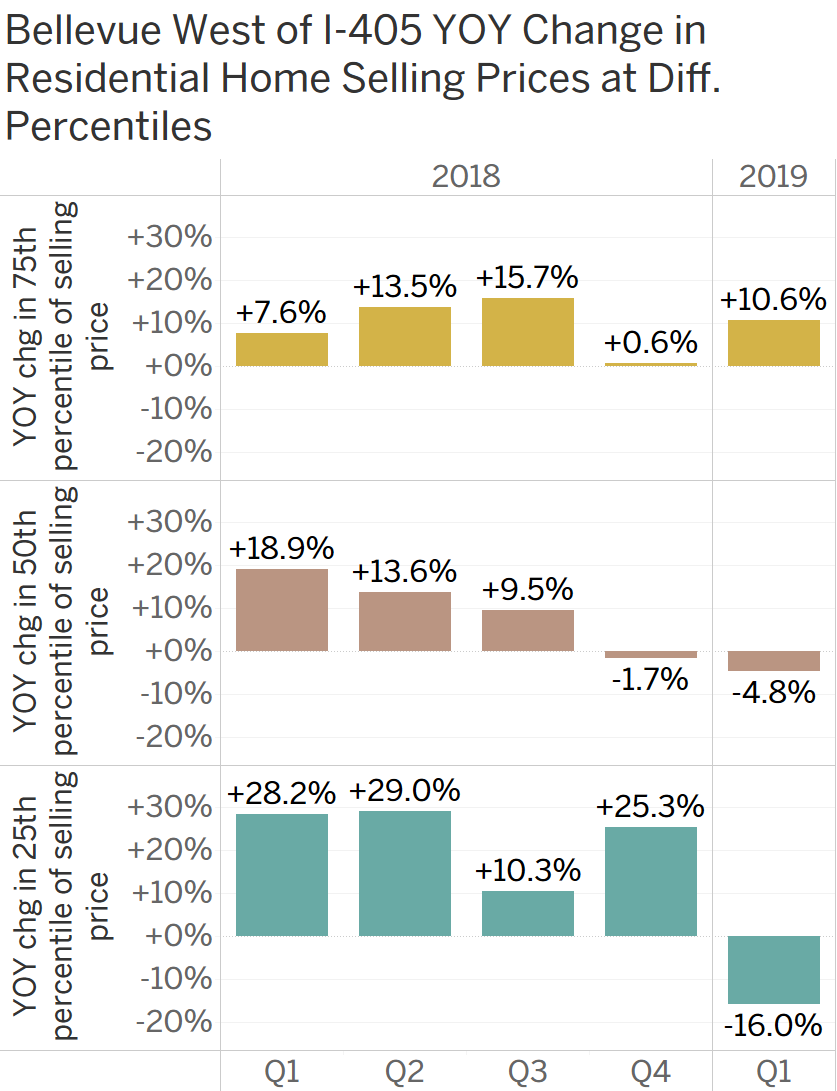 Bellevue West of I-405
In this center of Puget Sound luxury, quarterly prices among the top quarter of residential homes sold by price never stopped rising, and were back up by 10.6 percent year over year in 2019 Q1.
In contrast, prices among the bottom quarter by price were down by 16 percent in Q1, after quarterly increases of 25 to 30 percent in three of the past four quarters.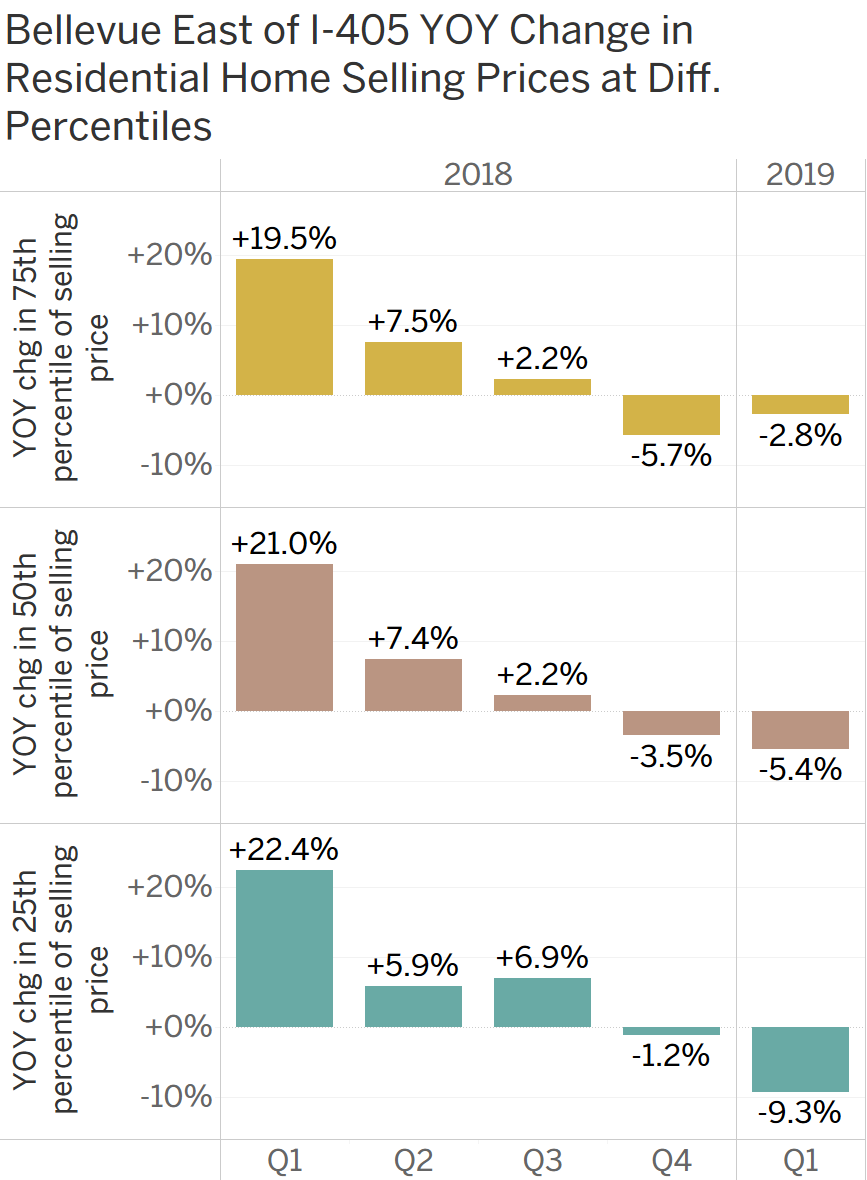 Bellevue East of I-405
Elsewhere in Bellevue, residential prices across the spectrum declined, but less in the top quarter than in the bottom quarter of prices.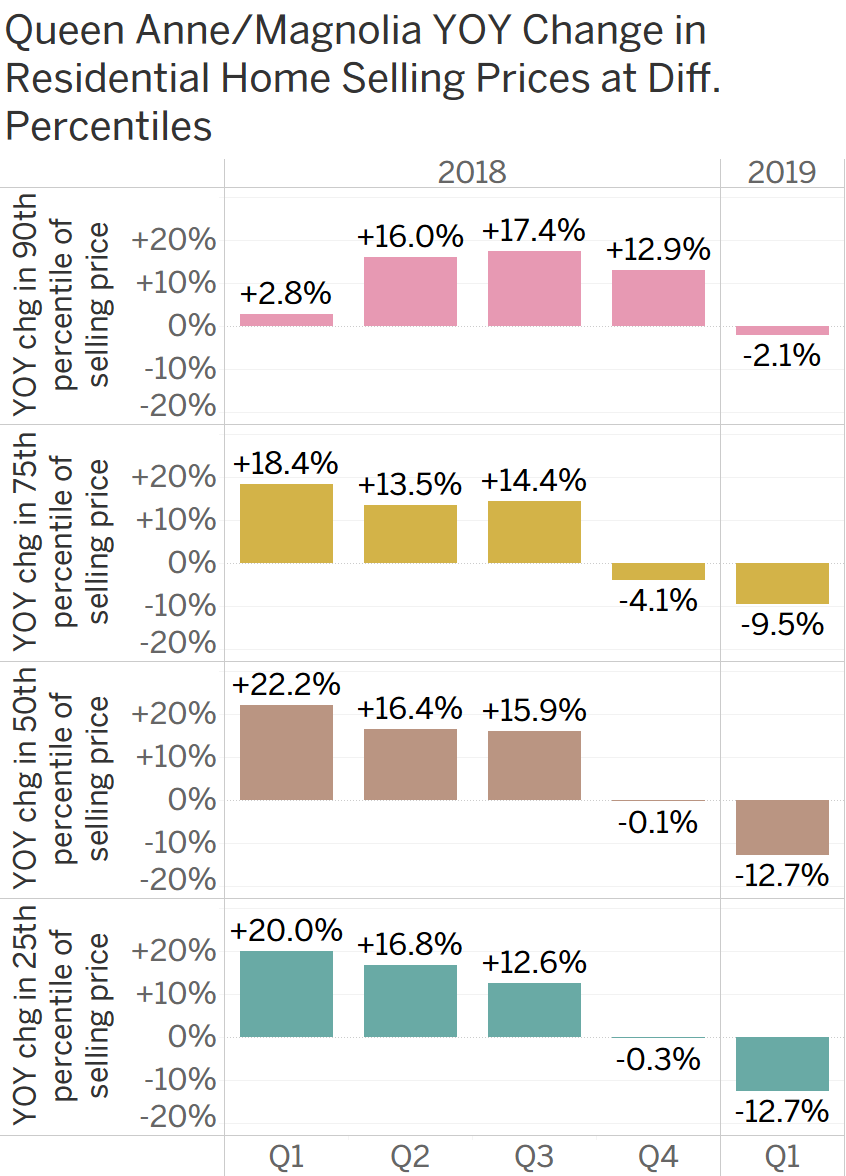 Queen Anne/Magnolia
Prices among the top tenth of residential homes sold by price in Queen Anne and Magnolia were rising by increasing amounts through the second and third quarters of 2018, while prices below them rose by progressively lesser amounts before declining in Q4 and falling by nearly 13 percent among homes sold below the median price this year. Yet residential prices at the top are still down by just over two percent.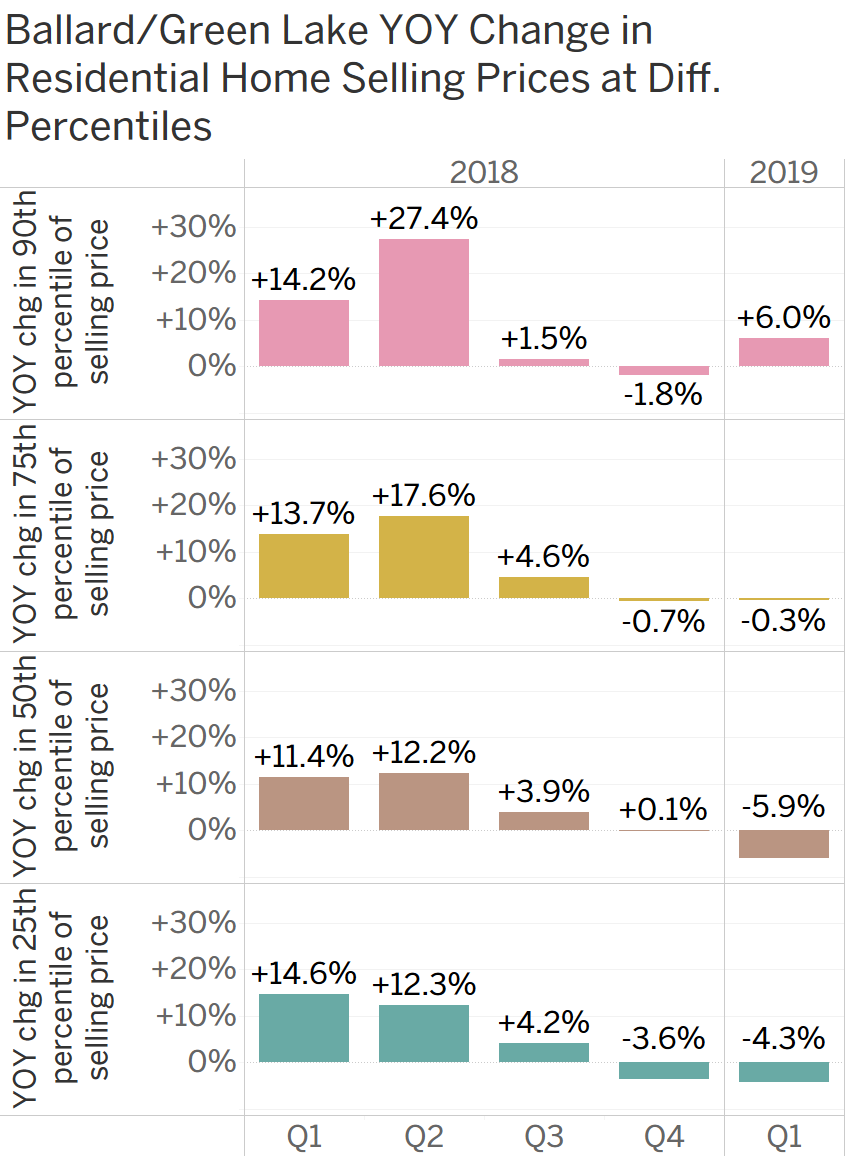 Ballard/Green Lake
The top ten percent of residential prices in Ballard were back up by six percent in 2019 Q1, while prices from the 75th percentile down were lower.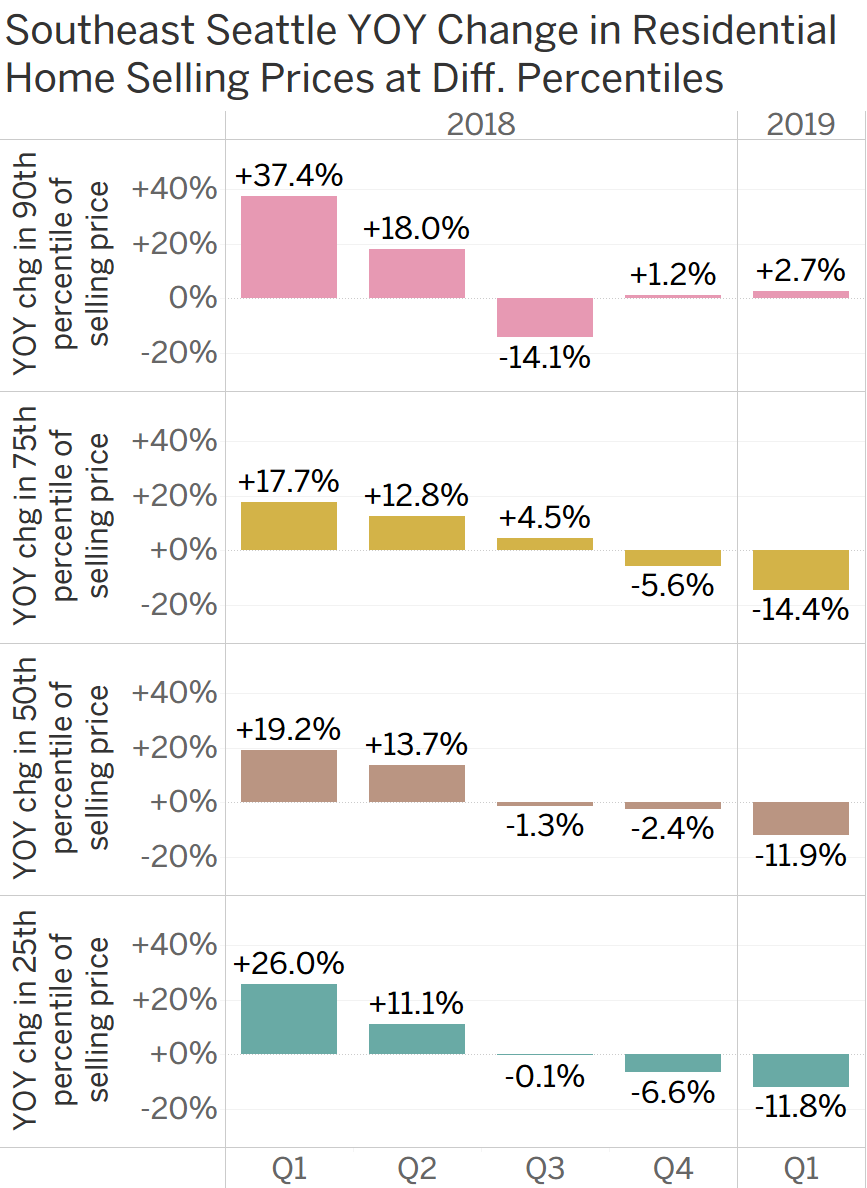 Southeast Seattle
Here again, the floor price of the top tenth of residential homes by price was up by 2.7 percent, while residential prices below dropped by between 12 and 15 percent.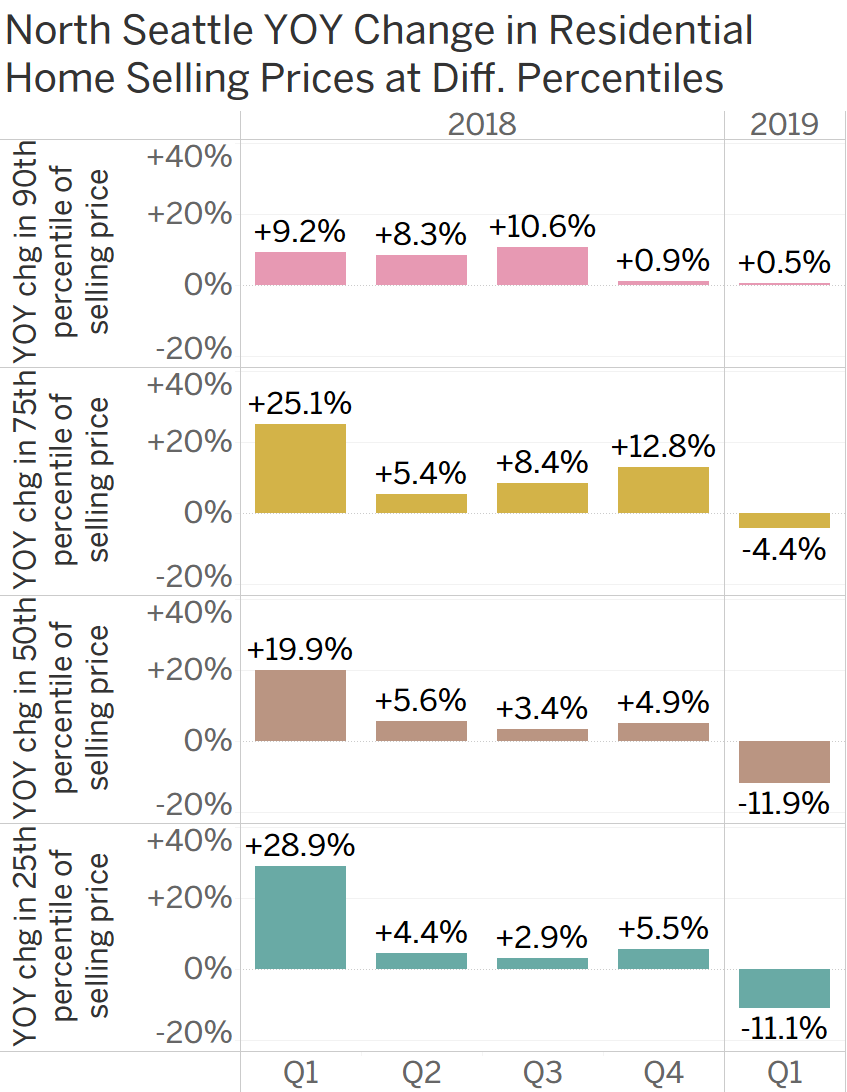 North Seattle
Among the top tenth by price, residential prices in North Seattle were up by half a percent. Residential prices below the median were down by 11 to 12 percent.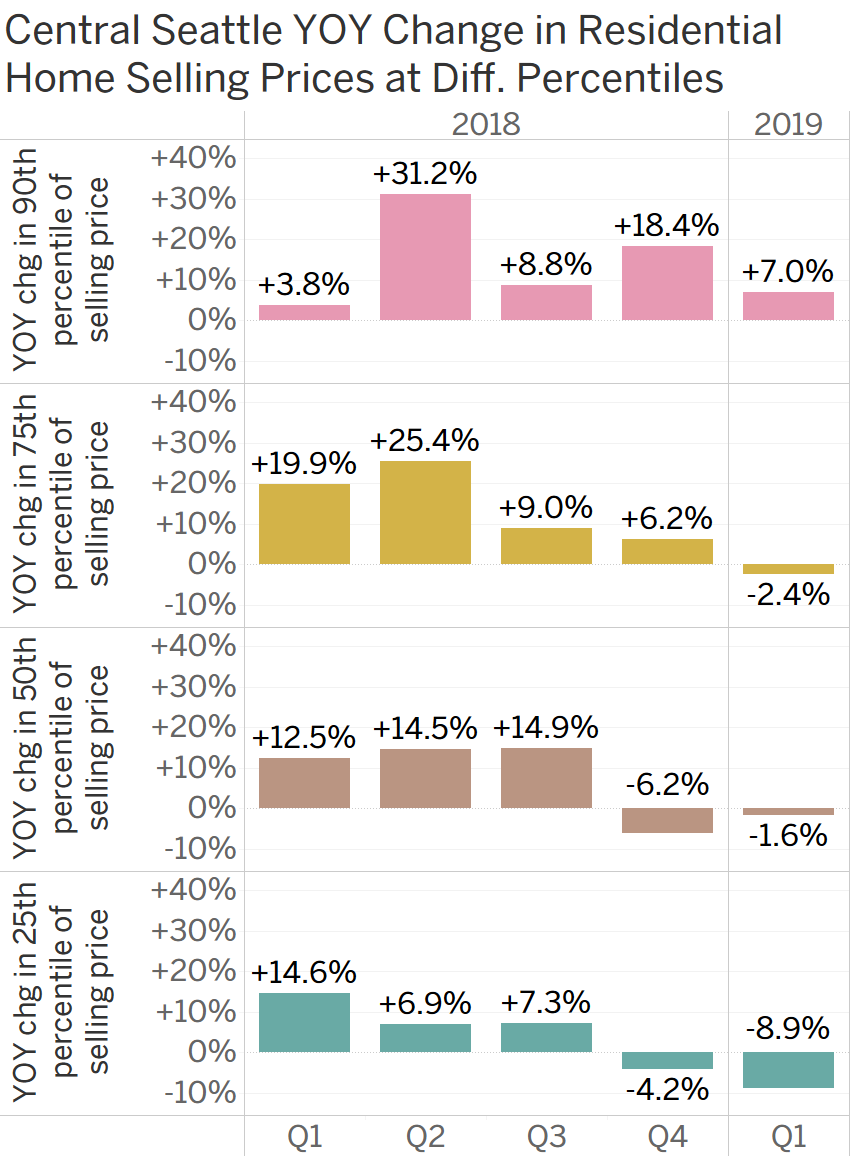 Central Seattle (Capitol Hill, Madison Park, and Denny Blaine)
Finally, among these high-value neighborhoods, the top tenth of residential homes sold by price never dropped on a quarterly basis, and were higher by seven percent in 2019 Q1. Lower-priced residential homes sold for less than before, with the price ceiling of the bottom quarter down by nearly nine percent.
To sum up, RSIR metrics are detecting a phenomenon quite the opposite of what is proposed in the Seattle Times. Rather than converging toward the mean, prices across markets are diverging: the highest prices are still higher, while lower prices are falling.
For more details on the February 2019 Case-Shiller Index results, download the S&P Dow Jones Case-Shiller summary report. For a copy of our 2018/2019 Market Report, along with details on the implications for homes in your neighborhood, contact a local RSIR broker.