Located on the northern border of Puget Sound is Whidbey Island, the largest island in the State of Washington. At only 30 miles from Seattle as the crow flies, the island can feel a world away from the big-city hustle with its miles of waterfront, lush forests and active towns.
The island is the fourth-longest in the United States, running 55 miles from its northern to southern end, and is divided into two regions. The northern end of the island is home to, and economically driven by, Whidbey Naval Air Station. South of the town of Oak Harbor, you will find more service-based businesses, and it more heavily relies on tourism, small-scale agriculture, and the arts.
Arrive on Whidbey Island by car, however, the Deception Pass Bridge is the only crossing, connected to Fidalgo Island. For a true Washington experience take a ferry ride across the water. From Mukilteo, drive or walk-onto the ferry to Clinton. Those coming from the Olympic Peninsula can take the Port Townsend ferry to Coupeville.
Once you're on Whidbey, there's no shortage of places to explore, things to do, and food to eat. And that's before we get to the wine and distilleries!
For those looking to traverse the outdoors, parks abound: from the five-acre Dave Mackie Park, with beach access, barbeques, and picnic shelters, to the vistas from Double Bluff Beach. Ebey's Landing is a National Historic Reserve in central Whidbey that boasts a conservation partnership to preserve the historic and scenic integrity of the island. Deception Pass State Park is also not to be missed, home to some breathtaking and photographable views of old-growth forests, and plenty of hiking trails, beaches, and campsites. Among its most recognizable sights is the Deception Pass Bridge. Depending on the tide, the bridge can measure 18-stories high.
Stop by Coupeville Town Park for views of Penn Cove—and if that name sounds familiar, you might be thinking of shellfish. There's plenty of delicious fare on the island, but the clams and oysters might be among the most famous. Whether you're selecting a restaurant or you're planning on digging your own dinner, the Washington State Department of Health provides guides for identifying where to forage and what is safe to eat. When you're done, wash your seafood down with a drink at Whidbey Island Distillery, Greenbank Farm Wine Shop, or Cadée Distillery and Tasting Room. Of course, these are just a few of the many locals to snack and imbibe on the island.
Finally, when it comes to the arts, there is plenty in supply. From festival weekends including Oak Harbor Music Festival and DjangoFestNW, to the Oak Harbor Art Trail and plenty of galleries, enthusiasts can both interact and observe the arts all around the Island's towns.
If you're ready to take a look at Whidbey Island, there are beautiful places to live. Realogics Sotheby's International Realty offers four stunning listings, at a variety of price points and island locations.
---
Profound natural beauty, cohesive design, and artisanal construction combine to create the masterpiece that is Smuggler's Cove. Find 22 acres of mature forest and meticulously integrated plantings, as well as a private road to 247 feet of beachfront that includes a sea-front lagoon, creating the ultimate estate for those who seek unmatched connection with the Puget Sound and its surroundings. Sublime architecture matches enveloping luxury with an aesthetic that is one with this private nature reserve. Represented by Jay Kipp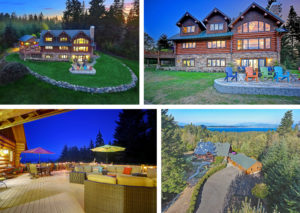 Casual luxury living on 10 private acres offers expansive views of Puget Sound, Mount Baker, and the Cascade Range. This impeccable custom log home features soaring ceilings, a glass-blown chandelier, and walls of windows. The state-of-the-art kitchen boasts a huge butler's pantry and all new appliances. Enjoy main level living plus two gas fireplaces. Unwind on the expansive deck, taking in the views and wildlife. This ultimate retreat also comes with an orchard and a huge heated shop with drive-through doors for an RV plus a two-car garage attached. Represented by Alex Thomas
Serenity at Possession Point features unique architecture on over two acres with walls of windows framing panoramic Puget Sound and coastline views from every room. The grand entrance unfolds into a great room with 30-foot ceilings, allowing nature to take center stage. An open kitchen with two sinks, an island, and high-end appliances. The master wing has two bedrooms, two walk-in closets, a spa-like en suite and a private deck where you can watch the ferries pass by. Additional features include a custom media room, library, and access to the community beach and boat launch. Represented by Boni Buscemi
Waterfront home on five acres at Possession Point. Boasting expansive southwest exposure plus rare 260 feet of water-frontage. The pond offers ultimate privacy and tranquility. Unsurpassed views of Puget Sound, the Cascades, Mt. Rainier, and the Olympics. A new commercial metal roof, open concept living with vaulted ceilings, steel accents, two fireplaces, three spacious bedrooms all with closets. The kitchen with granite is bright and opens to a large deck for entertaining. Unwind with eagles, whales and boat traffic at water's edge. An ideal location, just seven minutes to the ferry. Represented by Alex Thomas