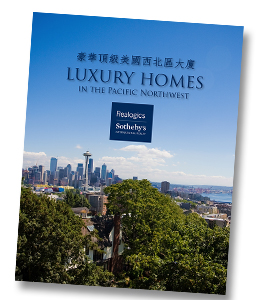 Realogics Sotheby's International Realty ("RSIR") properties and Pacific Northwest lifestyles were headlined at the Shanghai LPS (Luxury Properties Showcase) on December 12 – 14. As an invited representative of Washington State, RSIR President & CEO Dean Jones joined other Sotheby's International Realty affiliates from Beijing, Canada, Luxembourg and California comprising both San Francisco and San Diego for the much-anticipated event. An estimated 5,000+ guests were drawn to the Marriott City Centre Hotel in Shanghai, China.
In addition to hosting a flagship booth during the tradeshow, RSIR and affiliates provided a well-attended seminar on West Coast markets, they met with global bankers and their clients, and they took in the many sights and flavors of Shanghai. The initiative was well-timed with changes to the US visa policy and tapped trends for overseas education, foreign direct investment, immigration and global citizenship.
"Our most recent visit to China was direct confirmation that we'll continue to see a steady increase of Seattle home buying from Chinese nationals," said Jones explains. "I believe our new Asia Desk is well positioned to service this expanding demand."
RSIR recently announced the development of their Asia Desk – a collective of multi-lingual brokers familiar with the customs and logistics associated with international buyers. Currently under construction within their Kirkland branch office, the Asia Desk is expected to be complete by early January 2015 and will feature a tea room, private offices and a collaborative work space as executives prepare for increases within this target market segment.
WHY ARE CHINESE NATIONALS BUYING OVERSEAS?
Emerging Chinese Affluence: China remains one of the world's fastest growing economies and will soon have the greatest GDP nudging the US into second place. Such vitality, spurred in no small part to its massive population of more than 1.3 billion people, has produced an estimated three million millionaires and more than a thousand billionaires in relatively recent years. Many seek to become "Global Citizens" exploring and the world and according to Hurun research in collaboration with VISAS Consulting Group, the majority eventually plan to emigrate from China. Likewise a broadening middle class population now has the means to send their kids overseas to school and realize their version of the "American Dream". This segment commonly views the US as providing a more prosperous, healthy and dynamic lifestyle vs. remaining in China where a slowing domestic economy, concern over political stability and high ratio of persons to opportunities could mean dwindling prosperity at home.
Investment Diversification / Financial Safe Harbor: Many Chinese nationals garnered significant wealth by investing in real estate domestically and now they seek to diversify There is concern that policy changes by the Chinese government will continue to affect the domestic real estate market.   Many are also concerned about a housing bubble. Conversely, the US is considered to be among the most stable economies in the world, it offers fee-simple real estate (compared to China where the land is leased) and by most accounts the prospect for capital appreciation is greater.
Domestic Restrictions in China: In an effort to dampen what had been a superheated domestic housing market for many years, Chinese nationals are now only permitted to purchase one primary residence in their registered city under a "Hukou" – effectively one's passport to officially reside in that city. Should a resident purchase a second home or outside their Hukou they are subject to steep stamp duties of 30-percent on the purchase price and few financing options. These measures combined with weakening home values (an intended effect) has effectively curbed speculation domestically and caused investors to look outside China for opportunity.
Investment Return: Wealthy Chinese nationals are attracted to the rebounding US economy and rising home values following a well noted median home price correction between 2008 and 2012. Chinese investors generally prefer the relative control and security offered by real estate vs. stocks or bonds, especially considering the fact that global stock markets experienced a long run and appear to be frothy. Meanwhile the capital gain tax exemptions available in the US for principal residency and the opportunity for 1031 exchanges (deferred tax payments) of investment properties are further attractions. These considerations are not found elsewhere.
Education & Lifestyle: Many Chinese nationals are buying homes for their student-aged children as they target renowned schools and top-ranked universities abroad. Others are buying a home as their future residence once their immigration to the US is complete. Some simply prefer a US lifestyle and will purchase a vacation property to visit, which also doubles as an investment. The recent policy change between the US and China now allows for 10-year multiple entry visiting visas provided that foreigners don't surpass annual time limits spent inside the US. This new policy effectively invites Chinese nationals to buy a second home in the US without having to immigrate officially.
WHY ARE CHINESE CHOOSING THE SEATTLE/BELLEVUE METRO AREA?
Increased Visibility & Rising Popularity: The recent box office hit movie "Beijing Meets Seattle" (also known as "Finding Mr. Right") released in China provided unanticipated exposure throughout Asia and showcased an enviable and exotic lifestyle of living abroad in Seattle. Chinese nationals have further discovered that the Seattle metro area is an attractive tourism alternative to other West Coast markets. It helped too that numerous direct flights are now offered by competing carriers at Hainan Airlines and Delta Airlines so tickets are typically cheaper than other cities. SeaTac Airport remains the closest mainland US port to China offering quick, affordable and convenient service to numerous Asian markets (currently direct flights to China are available to Hong Kong, Shanghai and Beijing). Meanwhile it is also broadly noted that former US Ambassador Gary Locke, a Chinese American, has retired from government service and his family returned to live in the Seattle area. Likewise Bill Gates, the world's richest man, also lives in the Seattle area validating the lifestyle proposition. Numerous high-profile media articles now parade these sorts of observations to an attentive audience in China.
Relative Affordability: The Seattle metro area may be globally undervalued when compared to other West Coast gateway markets. The median household incomes are among the highest compared to peer cities yet real estate values are typically a third to half the price for similar Markets like Vancouver, San Francisco and Los Angeles have already become "hedge cities" where decades of immigration and foreign direct investment has caused property values to rise well above what would be normally supported from job and population growth alone. Savvy Chinese nationals realize this is a harbinger for the Seattle area and recent housing trends promise rising home values and greater purchasing power all at the same time. In short, Chinese nationals know that other Chinese nationals will follow, which creates a self-fulfilling prophecy about a rising home market.
Renowned Schools and International Tolerance: Chinese nationals are discovering many nationally-ranked private and public schools already have a high concentration of Asian students and ESL (English as Second Language) programs. They feel that paying property tax at 1% of assessed home value is a small price for education provided by the best public school districts found on the Eastside, on Mercer Island and on Bainbridge Island as well. Meanwhile, the University of Washington is ranked #15 globally for academics (the highest rating on the West Coast outside California) and typically 10-percent of the freshman class is foreign born (half are from China). With a high Asian population and demonstrated tolerances for international immigrants, Chinese nationals can feel comfortable living in the Pacific Northwest. In fact, some even affectionately consider Bellevue a suburb of Beijing as the family roots locally but commutes abroad for business. This very trend has been occurring for more than a decade just 150 miles north in Vancouver, BC and is a familiar scenario.
Pristine Natural Environment: With rapid growth, China struggles to curtail environmental pollution.  Those with the means desire the fresh air, clean water and trustworthy food that is offered in Washington State. They also are drawn to the natural beauty, matchless geography and even the seasonal weather patterns. Surprisingly, many Chinese nationals actually prefer the overcast cloud cover and rain over the dry and hot climate found in Southern California (it's common for Chinese woman to shelter themselves from direct sunlight). Also, waterfront living is revered in China because there are few opportunities to live by a lake or the sea, especially near large cities. Conversely, the Seattle area offers an abundance of opportunity to on the water and it's relatively affordable (for now).
Preferred Economic Climate: Chinese investors are expert at spotting market fundamentals and opportunities for capital appreciation with real estate (most amassed considerable wealth from investing in growing cities within China). The Puget Sound region is bustling with economic prosperity and the Growth Management Act has forced much of the anticipated expansion to occur within the urban areas. This is a familiar proposition for Chinese nationals – they know price escalation is ahead. Meanwhile, the lack of a state income tax in Washington offers further incentive to invest here over California or Canada where the combined tax rates (and real estate values) are much higher and the economies are not as strong.
"Ultimately, the value proposition is much greater in emerging markets compared with peer cities," remarks Jones. "Having spent much of my life in Vancouver, BC, I witnessed firsthand the effects of gaining favor with international homebuyers. Now I sense a similar cycle forming here in the Seattle/Bellevue marketplace."